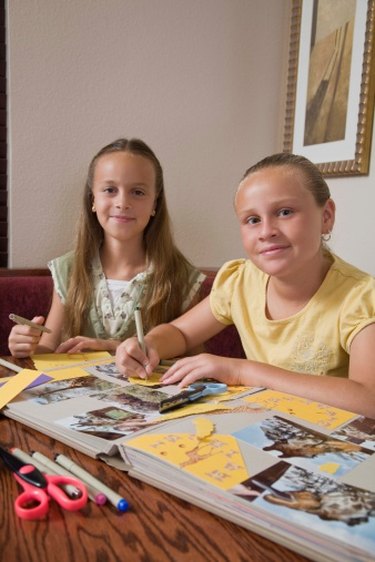 Because they use heat to seal the toner to the page, laser printers were not ideal for craft applications. Specialized craft and transfer paper could not tolerate the high heat that is required. But with the proliferation of inkjet printers, home craft printing has become more accessible and popular. With an inkjet printer, you can create paper crafts such as scrapbook items, greeting cards and stickers. Special transfer paper for inkjet printers is widely available to use in designing T-shirts, photo quilts, rub-on transfers and even temporary tattoos.
Epson Stylus Photo 1400
According to its CNET review, the Epson Stylus Photo 1400 provides high-quality color photo printing. The 1400 is a 13-inch printer and is ideal for printing on the 12-by-12-inch paper used by scrapbookers. It sells for about $275 with an ink cost of about $20 per cartridge. Epson's Creative Zone website provides templates for cards, scrapbook pages, letterhead stationery and papercraft toys. You can even use it to print labels directly onto CDs and DVDs.
HP Photosmart D7560
Consumer Research rates the HP Photosmart D7560 excellent in photo quality. It has a 3 1/2-inch LCD touch screen for printing directly from memory cards. Its $149 price tag, combined with an ink replacement cost of about $50 (for five colors), add up to a moderate cost for the abundance of features this printer provides. At the HP Creative Studio website, you can make photo books, scrapbooks, cards, calendars and numerous other crafts.
Canon Pixma iP4700
The Canon Pixma iP4700 is, according to Consumer Research, "a solid blend of print quality and value." Its features include dual paper trays and double-sided printing. At about $100, with a replacement ink cost of $60 for a set of five cartridges, the iP4700 is a reasonably priced choice. Canon's Creative Park website provides ideas for cards, scrapbook items, artwork, calendars and many more crafts.