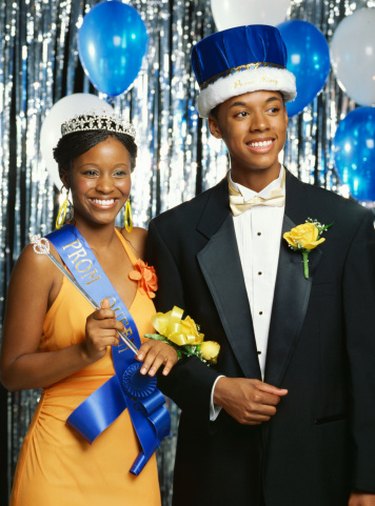 Prom is one of the most important events of the year for many high school students, and the event's planners can make the night as special as possible by paying attention to all of the details. Prizes help complete a prom experience since they help students remember the night long after it is over. It's important to be creative in thinking of prizes that can help complete your prom.
Gift Certificates
Gift certificates are a natural choice since they let the winner chose exactly what they want. Ask local businesses such as pizza houses, spas and clothing stores if they would like to donate a gift certificate in return for advertising on the events program or a sign in the space. Think about what the students at your school would most like when choosing which businesses to ask.
Donations From Local Businesses
Actual items from businesses are another option, although they are more tricky since the students don't get to choose what they would like. Items such as a pampering gift set, box of chocolates or flowers would be enjoyed by most of the student population (or their dates). If you decide to go with something more personal like a piece of clothing, make sure it is a one-size-fits-all item, like a scarf or a hat. Again, let the businesses advertise at the event in exchange for their generosity.
Creative Ideas
It's important to also think outside the gift certificate or gift box when considering prizes. Options that are customized to your school can be just as exciting for students to receive. PostProm, a website on ideas for after-proms, suggests giving away a personal parking space directly in front of the school. A prize for high school juniors could be free ice cream every week at the cafeteria for the next year. Think about what your school has to offer and use your imagination to create a memorable experience for the students at your school.