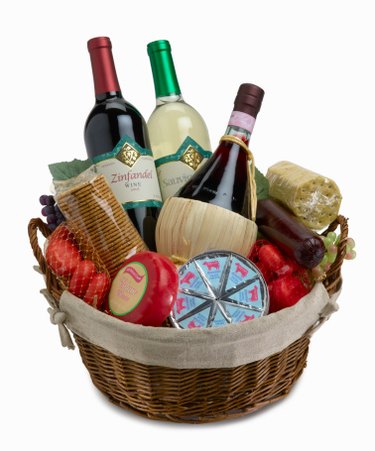 Gift baskets can range from those filled with homemade items to specialty, themed baskets. Due to their ability to be easily personalized, gift baskets can be exceptionally thoughtful and easy-to-make gifts. However, creating your own gift baskets takes a little pre-planning and some thought before you assemble your items and go to work.
Make an Evening of It!
There are no hard and fast rules on what can be put into a gift basket. Create a basket filled with items to create a family evening of fun or a great evening for two. Since the baskets can actually be made from any type of container, utilize a fun container that reflects the theme of the gift. For example, gifts for a family evening of fun could be put into a large movie popcorn bucket; the gift ideas could include popcorn, homemade candy and cookies, a gift card to a local movie theater, or even a board game. Alternately, a romantic evening for two could include a bottle of wine, homemade pasta sauce, fresh pasta, a loaf of fresh-baked bread and some candles placed into a picnic basket.
A Gift of Relaxation
Day-to-day life can be stressful, particularly around the holiday season. During the holidays, people are often rushing to and fro trying to get everything done in time. Give a special person on your list the gift of relaxation with a spa-themed basket. Fill a laundry basket with bath salts, decorative soaps, body lotion, aromatherapy products, a fluffy robe or towels, a CD of classical music and candles. Include a card with a promise for some quiet time without the kids or family, or include a certificate to a favorite spa for a massage or manicure.
Experience the Gift
Give a gift that creates a memory. This basket could include tickets for an activity that the person has always wanted to do. For example, if the person on your list loves classical music or the opera, pair tickets to a local symphony or opera company production with some opera glasses and a bottle of champagne and wine glasses, or some long gloves and a fancy black clutch purse. If the recipient loves Broadway, go all out and include tickets to a Broadway show and tickets to New York along with an overnight hotel stay. Experience baskets should be big and bold and something that the person would not necessarily purchase for herself. Make some dreams come true with a special experience basket.