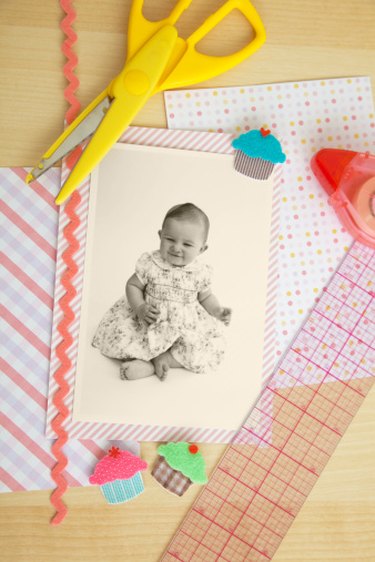 The Cricut Expressions cuts a variety of materials for use in various applications. It uses cartridges containing different designs for scrapbooking, card-making and other crafts. The Expressions version of the Cricut is larger than the Cricut personal cutter and uses 12-by-24-inch mats or 12-by-12-inch mats.
Thin materials
The Cricut Expressions cuts fabric, copy paper, acid-free paper, vellum and construction paper on the single-cut function. Cutting different shapes and letters from these items can give your scrapbook pages and homemade cards interest and texture.
Medium-weight materials
The Expressions model of the Cricut can cut heavy card-stock, T-shirt iron-on transfers, vinyl, contact paper, sandpaper, felt, transparency film and window cling material. Shapes and letters cut from these items can be used to create gifts such as personalized shirts, window clings and journals. Sandpaper can make great beach scenes in your scrapbook pages and cards.
Thick materials
Fun foam, chipboard, magnet material, think metal sheets and rolled polymer clay can be cut by the Cricut Expressions by using the multi-cut function. The Cricut website warns cutting heavy materials too frequently can reduce the life of the mat and cutting blade. Along with scrapbook, card and gift applications such as homemade magnets, these items can be used to make holiday ornaments and other household decorations.