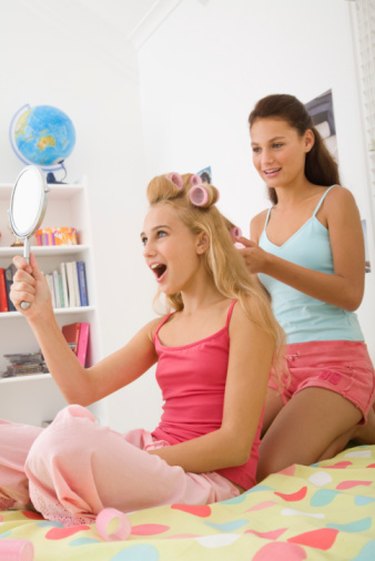 Sleepover parties have become a staple of the teenage experience. Girls seem to enjoy having parties that allow them to engross themselves in secret-telling and dress up, boys typically spend these parties playing competitive games and eating junk food. To make your 13-year-old birthday boy's or girl's sleepover party a success, try planning the most colorful decorations, the most decadent of foods and the funniest games and activities.
Decorations
Though most sleepovers don't seem to require many decorations, you still have a birthday party to plan for, and therefore want to make the sleepover extra special. Start off by decorating the main party space with streamers, balloons and a banner that reads "Happy Birthday." You can ask the birthday boy if he prefers a themed sleepover party, and infuse that theme into all of the decorations, as well. For example, your birthday boy may want you to throw a party based on his favorite video game. Your birthday girl may want to focus on a favorite TV show or book like "Alice in Wonderland." Because the guests will likely be staying up until late at night, hang some strings of colorful lights on the walls, as well as glow-in-the-dark stars, as suggested by Birthday in a Box. You can also invest in a strobe light to put in the living room if your guests plan on dancing to some music.
Food and Drinks
Young teenagers can often have large appetites, especially at a party. Keep them filled with tasty food and drink by making some treats. Finger foods like pretzels and chips work well, but you also want to have something a little more special. Your female guests in particular will enjoy some chocolate-covered strawberries. Make them by dipping the fruit into a mixture of melted chocolate blended with milk. Let the chocolate harden for a few hours in the refrigerator, then let the guests eat to their hearts' content. Have the teens make their own pizzas for dinner and enjoy a hot fudge sundae for dessert. In terms of a birthday cake, think of the sleepover party as your theme. Make a cake, for instance, resembling a bed, as suggested by the website Amazing Moms. Or, use your specific party theme to come up with a special birthday cake.
Games and Activities
So many options exist for sleepover activities. Singing karaoke songs and watching scary movies work well for both girls and boys, while playing dress up works well for a group of girls. Games like "sardines" certainly bring a spooky aspect to the party. You can play by selecting one of the guests to head outside to the backyard to hide. The other players follow after they all count to 100. They all search for the hiding player and anyone who finds her stays with her until all but one person hasn't found her. In keeping with the spooky theme, have the guests tell scary stories. To lighten the party up, play parlor games like charades and musical chairs. When the party heads into the wee hours of the night, girls often enjoy games like truth or dare. In another similar game, two truths and a lie, players state two true things and one false thing, and other players guess which of the statements is a lie. Boys can settle down by playing video games or starting a poker game.