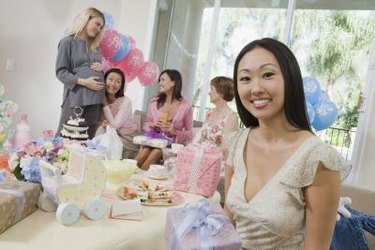 Planning an afternoon baby shower gives you the luxury of serving a late lunch, early dinner or sticking to heavy snacks, which can cut down on costs, serving time and clean-up time. The food you serve should complement the style and theme of your baby shower, as well as include some of the mom-to-be's favorites.
Light Snacks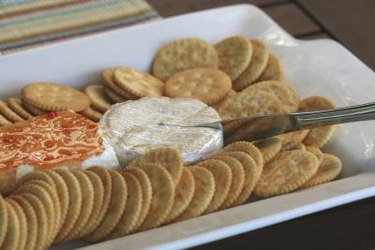 Light snacks should include a variety of foods that are easy for guests to consume. Choose foods that complement each other and offer something for everyone, such as non-dairy or meat products for vegans or vegetarians and anyone with food allergies. Small disposable plates and a buffet-style setup are ideal to serve cheese and crackers, fruit platters, vegetable trays, chips, salsa, different kinds of dips -- such as artichoke and cheese -- trail mix, nachos or popcorn. Keep the food related to the theme if possible, such as serving tropical fruit for a luau-themed shower. Make baby-related shapes with the fruit, such as pacifiers or bottles using cookie cutters. Mini crab cakes or stuffed baby portabella mushrooms play off the tiny person you are celebrating.
Heavy Snacks or Light Meals
Heavier snacks or light meals are fine if you expect the shower to go long or want to provide something more filling for guests. Serve a variety of bite-size sandwiches cut into simple cubes, triangles or baby shapes for something guests can grab and keep on moving. Shish kabobs allow for mobile snacking and can be tailored to nearly any regional or cultural theme. Soup and salad are staples that can be filling and simple to prepare. Chili can be made ahead of time in a crock pot and make for a hearty snack or meal during colder months. Offer a variety of flavored chicken wings if it's a favorite of the mom-to-be's. Add her favorite barbecue sauce to precooked wings from your supermarket deli and bake them for a tasty yet simple snack. Small, barbecued hot dogs or sausages and meatballs on toothpicks are easy and filling. Set up a taco bar or other simple self-serve buffet table if you want more of a meal.
Beverages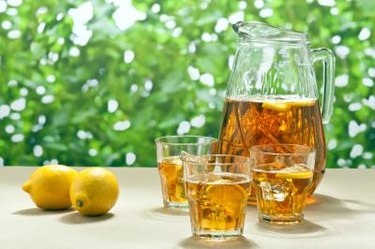 Afternoon events, such as baby showers, were once reserved for tea and biscuits. Offer your guests any beverage that complements the food you're serving, and include the expectant mother's favorites. Soda, diet soda, cold water, iced tea, lemonade and punch with a couple scoops of sherbet are fitting for a summer or spring baby shower. Offer hot tea, coffee and hot chocolate during a fall or winter shower. Mix hot and cold drinks if you want to add a variety. Formal afternoon baby showers might also call for wine, although it can be skipped as the expectant mother won't be able to partake.
Dessert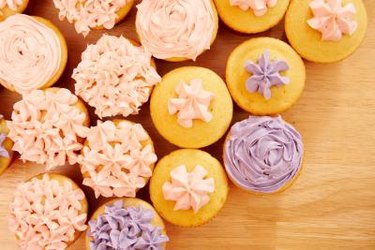 Opt for a traditional baby shower cake after light snacks or as the sole snack. Alternatively, serve cupcakes and display a complementary diaper cake if you want easier serving and cleanup options. Dessert bars are another option for an afternoon baby shower. Set up a variety of candy in large apothecary jars in colors that complement your shower theme. A cupcake or cookie bar are other options.