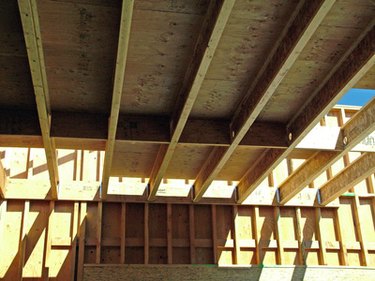 The character of old ceiling beams is often highlighted as an architectural feature when they are left exposed, but beyond the aesthetics, true ceiling beams provide support to the roof or foundation of the level above. Old ceiling beams may blend in well with the design style of a space, but when they do not, there are ways to cover them up completely or enhance them with decorative accents.
Box in the Beams
Boxing in old ceiling beams is a simple way to cover them up. You can dress the beams up with new wood, leaving hem natural or staining them with a contemporary tone. If the old ceiling beams have irregular lines or the wood looks too old for your taste, the new wood will make them look like a new addition.
Box in old ceiling beams with Sheetrock or plaster them to seamlessly blend in with the ceiling's finish. While the shape of the ceiling beams will still protrude from the ceiling, the finish will tone down their presence in the room.
Add Decorative Molding
Transforming old ceiling beams into decorative pieces of art is a way to cover up the appearance of a blah old ceiling beam. Use your imagination and draw inspiration from the design themes around your home.
Linear strips of decorative crown and trim moldings can be combined to cover the ceiling beams with layers of architectural detail. Apply a stained or painted finish to the molding and beam to match all of the components together.
Install a Drop Ceiling
Do not settle for the standard tracking and tile drop ceiling--install a conventional ceiling level with the base of the ceiling beams. Covering the ceiling beams this way will completely hide them above the new ceiling. This is a solution for those who do not want the ceiling beam look in their home.
To install a drop ceiling, you will have to construct ceiling support beams that have the same thickness as the ceiling beams. These will have to extend across the length of the ceiling, parallel to the existing ceiling beams with an even spacing of about 12 to 24 inches apart. Outline the ceiling's perimeter with the same drop ceiling support beams so that the ceiling can be closed in with adequate support along the edges.
Install insulation between the old ceiling beams and the new ceiling support beams to help save on your energy bills, cover in the ceiling with Sheetrock and apply paper tape and joint compound to connect and conceal the seams.