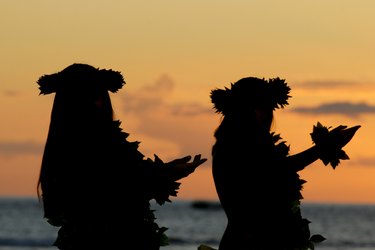 Luaus are traditional outdoor Hawaiian parties that combine feasting with entertainment such as hula dancing and musical performances. Luau food is usually served buffet-style. Hawaiian cuisine incorporates many cultural influences including elements from native Polynesian, Japanese and continental U.S. cuisine. Although a luau is by nature an extravagant festival, with a little forethought you can plan a menu for yours that's budget-friendly but will still wow your guests.
Appetizers and Finger Foods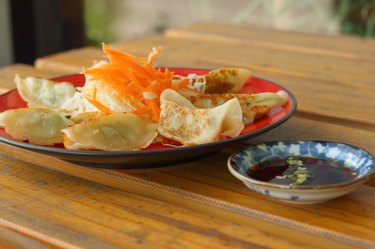 In Hawaii, appetizers are referred to as pupu. Your luau would be incomplete without a selection of little bites for guests to sample. To keep things affordable, avoid expensive meats and seafood. Offer bowls of taro chips and wonton crisps with a dip or two, such as a classic onion dip made with sweet Maui onions. A second dip could consist of a mango chutney, or opt for an Asian peanut or sweet-and-sour dip. Other pupus to consider: prepared lumpia, egg rolls and/or pot stickers; a platter of water chestnuts wrapped in bacon.
Salads and Sides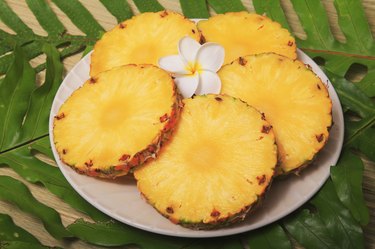 Tropical fruit is a given at any luau. You can provide it in the form of an exotic fruit salad or simply serve platters of fresh slices. You can also grill the fruit for extra flavor. Pineapple, coconut and banana are musts. Other strong choices include guava, papaya, kiwi, orange and mango. If you can find them and their cost is within your budget, add star fruit and dragon fruit to the mix as well. Hawaiian-style macaroni salad, dressed with mayonnaise and vinegar and tossed with grated onion and carrot, is another must-have that's both budget-friendly and delicious. Roast or steam and slice sweet potatoes, then dress them with lime juice for a simple and inexpensive vegetable side; you can also offer them mashed. Provide plenty of cooked white rice at your luau to complement your main course.
The Main Course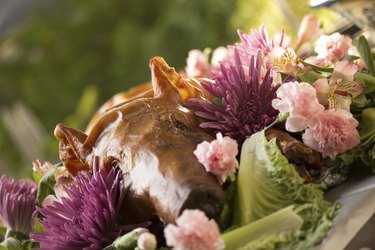 The centerpiece of a traditional luau is a whole roast pig, but that's both too expensive and too unwieldy for most modern parties. Instead, offer an assemble-it-yourself sandwich bar with shredded kalua pork, which is simply pork wrapped in banana leaves, seasoned with smoked salt and slow-cooked. Offer Hawaiian dinner rolls as an accompaniment along with coleslaw, a spicy pineapple relish and Sriracha mayonnaise. Another good main dish choice is teriyaki chicken parts. Opt for bone-in thighs and drumsticks rather than more expensive cuts.
Desserts
A pineapple upside-down sheet cake is a dramatic crowd pleaser, but it's also inexpensive and easier to serve than fussy plated desserts. You can also put out slices of banana bread as a dessert option. Another fun and inexpensive dessert is orange gelatin studded with mandarin orange slices.
Drinks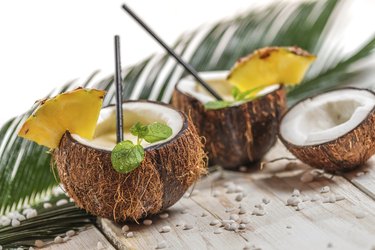 Rather than offer expensive mixed drinks at your luau, set out a big bowl of spiked tropical punch. Try mixing cranberry or pomegranate juice, pineapple juice, club soda or lemon-lime soda and rum. Or try mixing orange juice, vodka and guava juice, plus a splash of coconut syrup.