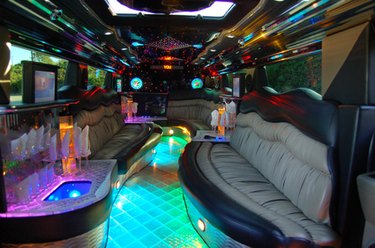 Standard birthday fare like cake and streamers are suitable for birthday celebrations, but a limo party adds an unexpected twist on traditional birthday events. Birthday guests young and old enjoy the glamor and fun associated with luxurious limousine accommodations. Whether you incorporate a limo into a party as a means of transportation or include the limo in all elements of the birthday festivities, party guests are sure to love the indulgence of a limo birthday party.
Limousine Arrival
Make a grand entrance to a birthday party with a stretch limousine arrival. Limousine arrivals are best suited for birthday parties that take place at a venue like a club, bar or rental hall. Guests arrive to the party an hour before the guest of honor. Arrange for a red carpet to line the walkway from the limo door to the entrance of the party. Before the limo arrives, escort guests outside to line the edges of the red carpet. For even more impact, hire several photographs to act as paparazzi for the birthday guest. When the limousine arrives, the birthday guest and her entourage of close friends or family are greeted by eager guests and a sea of cameras for a truly glamorous entrance.
Multiple Stops
Treat guests and the guest of honor to a day of fun and pampering with a series of stops and limousine transportation. Arrange for a small number of guests to be picked up at their homes in a rented stretch limousine. Many party guests will likely be content to simply ride around in the limo all day, but arrange for several stops throughout the day to create a true birthday experience. Guests enjoy a trip to a high-end cafe for lunch followed by a trip to a spa for facials and massages. For an all-day affair, attend an evening sporting event or dance club before returning guests to their homes.
Old Hollywood
Create a birthday theme around a vintage or antique limousine. Most antique limousines feature fewer seats than newer models, so keep the guest list small. Encourage guests to attend in retro costumes from the 1920s or '30s. After pick-up, take guests to salon for decade-appropriate hair styling and make-up application. Attend a local playhouse for a sophisticated party experience or hit up a local piano or jazz bar for an authentic retro evening.
Children's Party
A limousine is an ideal option for parents who want to host a children's party at a location other than their home. Arrange for the limousine to pick up guests at the birthday child's home to avoid confusion. Decorate the interior of the limo with bright balloons or streamers to create a kid-friendly atmosphere. Take guests to a local playground, miniature golf course or zoo; many young children will consider the limousine the highlight of the party so include several minutes of travel time for an optimal limo experience.