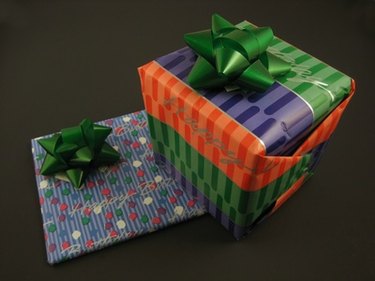 As his girlfriend, you always want to get him the perfect present, but you may feel especially pressured to make his 18th birthday special. Your boyfriend's 18th birthday is a milestone, bringing him into the realm of legal adulthood, even though he still can't purchase alcohol for several more years. Whether your budget is $20 or $100, you can find that birthday gift that stands apart from the others and makes you the coolest girlfriend ever.
Gadgets
A man's toys are his electronic gadgets. If your boyfriend is an aspiring musician, he'll get a kick out of an electronic tabletop finger drum set or an iKaraoke microphone, which hooks up to his iPod and isolates the lead vocal track so he can be the frontman. Many guys love practical gifts with a twist, such as a USB drive in the shape of his favorite car or cartoon character. New earbuds for his MP3 player, a customized cover for his cell phone or a case for his digital camera are also smart tech choices.
Gift Basket
Fill a basket with 18-themed gifts, including items you have to be at least 18 years old to purchase and gifts in sets of 18. Perhaps he'll win a million dollars with the lottery ticket you buy him, and then he can celebrate with that cigar and lighter in the basket. Add something sweet to the basket with 18 of his favorite candy bars or homemade cookies. Express your feelings with 18 romantic notes, 18 poems or a mix CD with 18 love songs.
Tickets
Tickets to a special event are another way to celebrate his landmark birthday. Tickets to an 18-and-over live music or comedy club are one option if you're also old enough to get inside (or you're willing to let him go with his friends). Take him to see his favorite sports team, his favorite band in concert, a monster truck rally or a play, depending on his taste. A day trip to an amusement park, a museum or a music, food, tech or sci-fi festival might make his 18th birthday especially memorable.