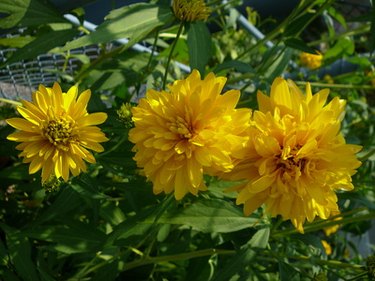 Coordinating the architecture of the house with the style of the garden leads to a consistent look. For example, a modern house with sleek lines and large expanses of glass would look odd with a country garden. Not only should you keep the styles consistent but also carefully look at the colors of the flowers and how they play off the color of the house. Gray is a neutral color that makes most other colors stand out. Blue and purple are too close to gray to work well and will fade into the color of the house.
Red
Reds works well with gray with the exception of burgundy, which is too dark and fades against the gray, especially if the gray is also dark. Many flowers bloom in red. Try geraniums for a mid-size flower. Many small flowers are clustered at the end of the stems and resemble a ball about the size of a large orange. Geraniums grow to 2-feet tall. Roses are another flower that blooms in red, as well as nearly every other color except blue. Roses grow from 3-to 5-feet tall. If you want a tall flower, try hollyhocks or butterfly bush. Butterfly bush blooms in red and yellow flowers on the same stem.
White
Bright white looks stunning against a backdrop of dark green leaves and a gray house. Alyssum is only 6 inches high and is covered with tiny white flowers with a faint honey scent. They spread to 2-feet wide and self-seed prolifically. Zinnias are annuals, which mean they require replanting every year. The plants grow from only 6 inches to 3-feet high depending on the variety. Both Asiatic and oriental lilies come in white. Casa Blanca lilies have blooms nearly 6 inches across and are highly scented. Three to five lilies bloom on each stem.
Orange and Yellow
Stick with the bright shades of yellow rather than the paler shades. Mixing orange and yellow creates a vibrant border. For a sunny look add a few red flowers into the mix as well. Create a show-stopping spring garden with bulbs in orange and yellow. Plant crocus for early spring flowers. Daffodils bloom in bright yellow as well as yellow with orange trumpets. Tulips bloom in oranges and yellows in mid to late spring. Iris is another yellow spring flower that will blend with a gray house.
Pink
Pink adds pizazz to the landscaping when contrasted with gray. Pink is also a common color in flowers. Peonies have huge flowers up to 12 inches across in many shades of pink. Roses, of course, bloom in pink. Hydrangeas bloom in pink, but check your soil first; they change color from pink to blue depending on the acidity of the soil. Blue fades into the gray of the house.
Flower Foliage
Bright, dark and light green leaves work against a gray house. So do variegated foliage with yellow or white. Stay away from gray-green bushes and plants, which just blend into the house color. Dark foliage, like black taro or purple canna leaves, don't stand out either. Choose flower colors and foliage with the gray house in mind