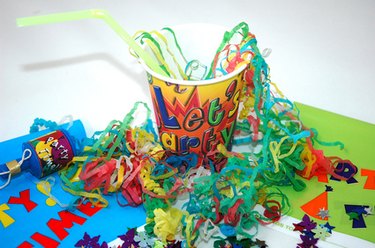 Kids look forward to their own birthday party as much as summer vacation or winter holiday; canceling or postponing the event can bring crushing disappointment. Unfortunately, due to circumstances beyond your control, postponing your child's birthday party may be inevitable. To ensure the party is successfully rescheduled and a smile returns to your child's face, follow a few simple rules for postponing your child's birthday celebration.
Inform Guests of the Postponement
It's important for guests to know the party has been postponed, and what the new date, time and location are for the rescheduled event. Send letters and/or emails to everyone on your guest list explaining that the party has been postponed and the reason for rescheduling, whether due to illness, weather, overbooking or personal reasons. Notices should be sent out at least one week in advance of the original party date. If such advanced notice is not possible, call everyone on your guest list directly. Guests will appreciate a personal phone call, as they may be concerned about the reason for the cancellation. Let them know their presence at the rescheduled event is anticipated and appreciated.
Explain to Your Child
Your child will likely be disappointed that her party has been postponed. Explain your reasoning behind postponing the party, and try to make her understand the necessity of your decision. Expect that your child may cry or act out due to feelings of disappointment and frustration; allow her to express these feelings within reason. Make sure your child knows the party has been postponed and not canceled; explain to her how many guests are still looking forward to celebrating her special day.
Celebrate Anyway
On your child's actual birthday, or on the day of his canceled party, celebrate anyway. Let your child know that his birthday is an occasion to celebrate, whether there is a party or not. Sing "Happy Birthday" and prepare or order in your child's favorite meal. Bake or purchase a cake with candles and have ice cream as a special treat. If the party has been canceled due to your own illness, find a friend or relative to help your child enjoy an intimate celebration. If the party has been canceled due to your child's illness, allow him to have a little cake and ice cream, but nothing too excessive to interfere with his healing process. If you planned to give your child a special present at his party, give it to him on his actual birthday instead, as this may ease the sting of the postponement.