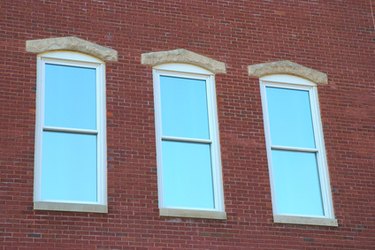 Fiberglass is a strong material used for window frames. According to Greenerbuilding, an organization dedicated to promoting the use of sustainable construction materials, fiberglass is about three times more durable than aluminum and nine times tougher than vinyl. In addition, fiberglass is paintable and is more energy efficient than other windows. Despite these benefits, problems have been reported with fiberglass windows.
Cost
One of fiberglass windows' biggest drawbacks is cost. Fiberglass windows tend to cost about 10 to 30 percent more than other windows, like mid-grade vinyl windows. Greenerbuilding, however, expects that cost will decrease over time as the market for these products grow and more alternatives become available.
Maintenance
Fiberglass windows require more maintenance than vinyl windows to preserve their appearance. Although these windows arrive for installation painted, the paint often becomes chipped or scratched during transport. Furthermore, the window's paint frequently becomes damaged during installation and requires touching up. Yet even after the window is installed, it's still susceptible to paint scratches and probably requires regular maintenance to prevent the window from appearing worn.
Leakage
All mechanically fastened windows, including fiberglass windows, leak in the corners. Enterprise believes one cause is a weak frame that cannot be welded like vinyl windows. The company also reports a higher percentage of service-related issues with fiberglass windows than with vinyl windows. However, other window installation companies and builders, like luxury home builder Cedar Knolls, report few service issues with fiberglass windows and insist the windows satisfy performance standards.