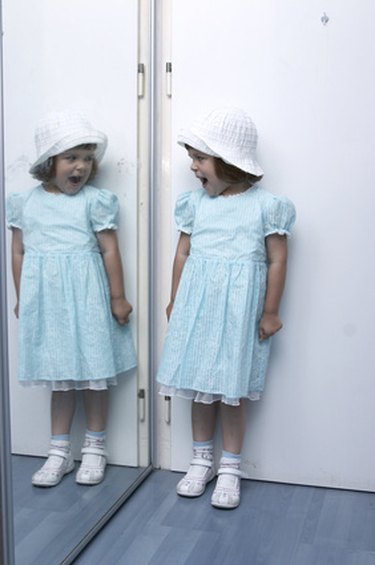 Dress up involves changing your clothes and making yourself look like someone else. People of all ages enjoy dressing up, whether it's kids playing dress up with their friends or getting into costume for a school project, or adults dressing up for a costume party. Many creative old school dress up looks are simple to put together.
Cowboy/Cowgirl
Old school Western costumes take little money or work to create. To dress up as a cowboy or cowgirl, wear an old pair of jeans and some cowboy boots, and add a Western style flannel shirt or a shirt with some stitching or embroidery. After you have this basic look down, you just need a cowboy hat to complete the look. Add other accessories like toy guns, spurs on your boots, a bandanna around your mouth and nose, and anything else you can think of that will add authenticity to this old school look.
Pirate
Pirate costumes are easy to create and remind people of olden days when these mysterious and unfriendly characters roamed the seas. The bandanna is a traditional symbol of the pirate. Start your look off by wearing one around your head. Men should wear black pants while women wear a tattered skirt. Costume Idea Zone says, "Boots are very helpful (in creating the pirate look) but you can make boot tops by wrapping dark fabric around your lower leg (and) flapped over at the top." Wear a loose blousy shirt and leave it unbuttoned at the top, with a vest over the top of it. Wrap a thick piece of fabric around your waist as a belt. Add accessories like fake earrings and an eye patch to complete the look.
Pick an Era
Style of dress has dramatically changed over time. To create an old school outfit, pick your favorite era and try to copy the style of dress it's known for. If you choose the Roaring '20s, women should wear flapper dresses and men should dress like New York gangsters. For the '50s, women can wear poodle skirts or denim shorts with light colored sweaters while men wear jeans, white T-shirts and leather jackets. The '60s were all about hippies, so wear flowing fabrics, bell bottom jeans, floral patterns and brown leather pieces. A simple search on the Internet for costumes and styles from your favorite era will yield many results. Get inspiration and ideas from these results and create a unique dress up costume.