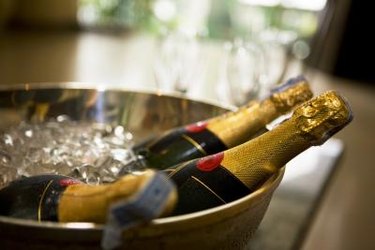 A glitz and glamour party can be a chance to add a bit of sparkle and drama to your everyday life. You can use the theme for a birthday or holiday party, or plan a party during an otherwise uneventful week. As you plan, consider ways to make your guests feel special; by treating them like celebrities, you can create a memorable evening.
Red Carpet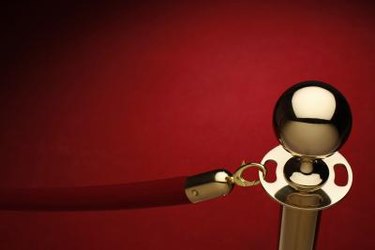 For the entrance to a glitz and glamour party, use a red carpet to give the feeling of entering a star-studded movie premiere. Put up a patterned background to use for photos, and hire several amateur photographers to act as paparazzi. As each guest arrives, ask them to walk the red carpet, posing for the photographers and other party guests. You can set up a velvet rope to keep out other people and create a sense of exclusivity. For the rest of the evening, have the photographers mingle with the crowd, taking candid shots and posed photos of your friends in their finest; you can send the photos out after the event or post them online for a reminder of the evening.
Favors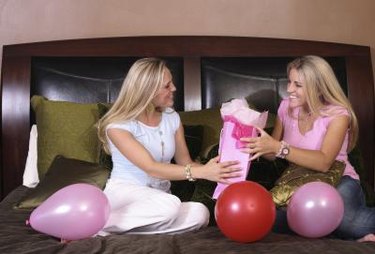 Mimic the atmosphere of a glamorous celebrity party by handing out swag; although your gift bags will not likely contain high-end electronics, you can include items that will add to the sparkle and glamour of the evening. For each guest, put together a gift bag with a variety of items designed to add to the glitz of the evening. For women, include sparkling costume jewelry, tiaras and feather boas that they can wear during the party. For men, you can put in cuff links, sequined bow ties or jaunty hats. Use items that will add to the atmosphere of the party, such as disposable cameras, dark sunglasses, fabric flower hair clips or boutonnieres, or small versions of award statues.
Food and Drink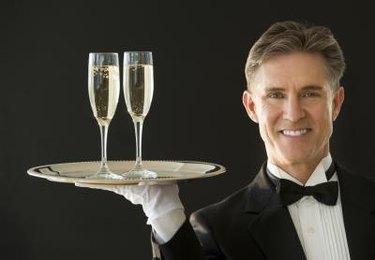 Make your guests feel like celebrities by serving glamorous food and drink throughout the evening. Hire a catering staff that will dress in crisp white and black, and have them circulate with food and drinks. Pour sparkling champagne in elegant flute glasses, serve brightly-colored drinks in martini glasses, and keep the wine flowing. Instead of a traditional sit-down meal, have the serving staff pass gourmet appetizers. Use unusual food selections or creative takes on traditional appetizers and ask the caterers to pay special attention to presentation on the serving tray.