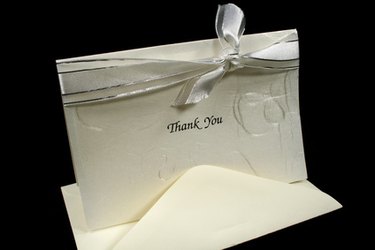 The art of writing thank-you notes has dwindled. In this busy day and age, fewer people bother to put pen to paper to write personalized notes and drop them in the mail. Writing a thank-you note not only shows good manners, but it can also brighten someone's day since it shows appreciation.
Thank-You Notes for Gifts
Proper etiquette dictates that when someone gives you a gift, a thank-you note is in order. When you have a party where guests presented you with gifts, be sure to keep each card with the corresponding present so you will remember who gave you what item. Thank-you notes should go out promptly, within days after the party. Each card should be personalized for the recipient. Mention each gift by name, unless it was cash or a check, in which case you would thank the person for the generous gift. Describe briefly in your note how you plan to use the gift, such as you are placing the clock on the mantle, or will be opening a child's college fund if money was given. End the note with another thank you for the gift, as well as for making the time to come to the party.
Thank-You Notes to Guests
When hosting a party, you don't always get to spend as much time with each guest as you would have liked. It is not necessary to send guests a thank-you note, but it can be very pleasant for a party guest to receive a card in the mail a few days later thanking him for coming and brightening the event. If it was a theme party, such as a backyard luau or an old-fashioned Hollywood-style New Year's Eve party, carry the theme over into your thank-you card. If you took photographs at the party, put them to use to create your thank-you note. Slip the photo of your guest at the party inside the card so she will have a keepsake. Alternately, print the photo on white card stock to make the cover for the actual thank-you card and write your message inside.
Thank-You Notes to Hosts
If a party was given in your honor, such as a shower thrown by your maid of honor or a surprise birthday party thrown by your mother, consider the party itself a gift from the host and write a very special thank-you note. Look for a card, or make one yourself, that incorporates your host's theme. It will let your host know that you enjoyed the party so much that it was on your mind when you prepared your thank-you card. Write a heartfelt message to your host about how touched you were with all of the time and effort she put into the party. Mention how you plan to treasure the memories and, if you were given gifts by other guests, tell the host how generous everyone was.
While proper thank-you note etiquette does not demand you send your host a thank-you note after a party that was not in your honor, it is still a kind and thoughtful thing to do. When someone entertaining has gone out of his way to make your experience enjoyable, a quick note of thanks from guests acknowledging the effort will brighten his day.