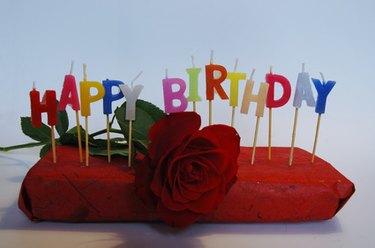 When a person has lived for three quarters of a century, she has witnessed changes in the world and gathered a lifetime of knowledge. She most likely has had a chance to establish long-time friendships and watch her family expand. When a mother turns 75, a party provides a venue for celebrating these facts.
This Is Your Life
This Is Your Life theme parties are very popular, according to the Adult Party Ideas website. They provide an opportunity for guests to learn about and reflect on significant events your mom has experienced. Make a video or slide show with pictures of your mother at events or special occasions, and tell the stories associated with the pictures. Get in touch with friends or relatives with whom your mother unintentionally lost contact, and have them give your mother a call during the party. (Friends and relatives also could send a note for you to read during the party.) Go to your library, and find information such as what happened in the year your mother was born or the average price of groceries for each decade of her life.
Birthstones
Use your mother's birthstone for decorations, treats and games. For example, if your mother's birthstone is emerald, present everyone with a goody bag of 75 green jelly beans and have green streamers, balloons and table cloths. Have everyone chip in to buy her a set of earrings, a ring or a necklace that includes her birthstone--the jewelry will be sentimental since it will be a gift from everyone.
Karaoke
Give your mom a blast from the past by offering karaoke with all the favorite hits of the rock 'n' roll, big band and folk genres. Guests can dance to the songs if they like. If you can't find karaoke versions of the tunes you know your mom would like, show some clips from variety shows such as "The Lawrence Welk Show," "The Benny Hill Show" and "The Ed Sullivan Show." Using software programs to tweak audio files you have to remove vocals is another option if you're tech-savvy.
"Things I Learned From Mom" Book
You and your guests likely have learned a lot from your mother. To show your mother what you and her family and friends have gleaned, get a leather-bound notebook and have everyone write about how your mom has been a teacher. The content doesn't need to be overly sentimental. Humor is OK. For example, you could write about how she taught you how to save a burned dinner or decipher what men meant. Since there likely won't be enough time for everyone to finish writing at the party, arrange for people to write their messages before your mom's big day. Then present the notebook to your mom as a gift during the party.