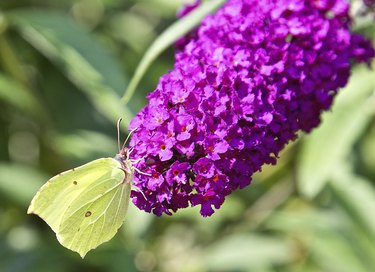 The main attraction of butterfly bush (Buddleja davidii) is bringing butterflies and other beneficial insects to the garden, but the standard species has a sprawling, large, open, long-limbed shape. Dwarf varieties are shorter and denser but still have the prolific blooming and heady fragrance of larger shrubs, and offer a similar range of flower colors. Butterfly bush grows in U.S. Department of Agriculture plant hardiness zones 5 through 9, and does best in full sun and most soil types except waterlogged soil.
Downsize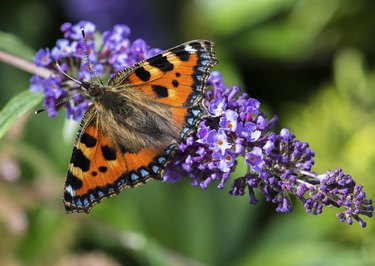 A dwarf butterfly bush grows up to 6 feet tall. Standard butterfly bush cultivars grow 6 to 10 feet tall and 4 to 10 feet wide, but dwarf varieties are usually half the size or smaller. "Buzz Violet Blue" grows 3 feet tall and wide when grown in the ground, but in containers its final dimensions are 2 feet tall and wide. Bearing mildly fragrant, violet-blue summer flowers, this compact shrub's willowlike leaves are medium green and have serrated margins. "Monum" Petite Plum is another dwarf cultivar, growing 3 to 5 feet tall and wide, and bearing reddish-purple, fragrant summer flowers 4 to 10 inches long. Petite Plum produces small leaves on arching, spreading stems.
Behold the Butterfly Bush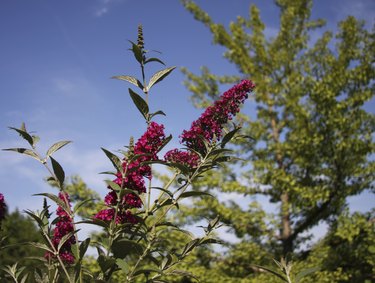 Developed at North Carolina State University's JC Raulston Arboretum, the Lo and Behold butterfly bush series includes several dwarf varieties. "Blue Chip" grows about 2 feet tall and wide in well-branched mounds, and bears intense blue flowers. "Miss Ruby" is slightly larger, growing 2 to 3 feet tall and wide in one year, and bearing bright, reddish-pink blooms. Other members of the Lo and Behold series include "Ice Chip," which bears white flowers and grows 1 1/2 to 3 feet tall and 2 to 3 feet wide, and "Lilac Chip," which has soft, lavender-pink blooms and grows 1 1/2 to 2 1/2 feet tall and 2 to 2 1/2 feet wide.
Go English
Elizabeth Keep of East Maling, England has bred a range of dwarf butterfly bush varieties. Her butterfly bushes are dense, upright shrubs that produce large, mildly fragrant clusters of flowers 8 to 10 inches long throughout summer and sometimes to the first frost date. "Pyrkeep" Purple Emperor bears mauve-purple flowers, "Adokeep" Adonis Blue bears dark blue flowers and "Peakeep" Peacock blooms are lavender-pink. Adonis Blue and Peacock leaves are slightly glossy and have serrated margins. All three varieties grow 3 to 5 feet tall and wide.
Variety is Key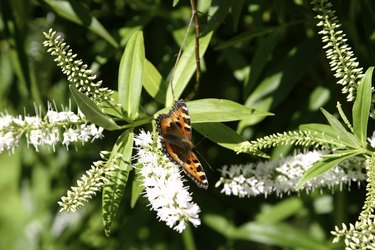 Other dwarf varieties includ "White Ball," "Ellen's Blue" and "Summer Beauty." "White Ball" grows 3 feet tall and wide and bears prolific white blooms through summer. "Ellen's Blue" can grow 3 to 5 feet tall and wide but usually grows to about 4 feet. Bearing deep blue flowers that produce a fruity fragrance, this dwarf variety displays silvery leaves. Also with silvery foliage, "Summer Beauty" bears deep, rose-pink blooms and grows about 4 feet tall and wide.