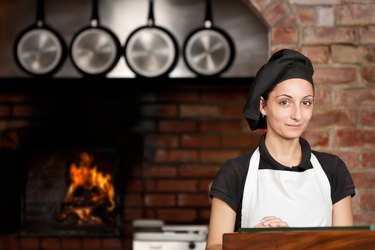 Whether you plan to open up your own Italian restaurant and you need some decorating inspiration, or whether you want an Italian flair in your own kitchen at home, there are hundreds of ways to decorate. Italian restaurant decorating can be reflected in small, subtle touches such as a simple shelf display of Italian wine bottles, or it can encompass the entire room, from Tuscan-style paint colors to Italian marble floors and murals of the Italian countryside.
Old-School Italian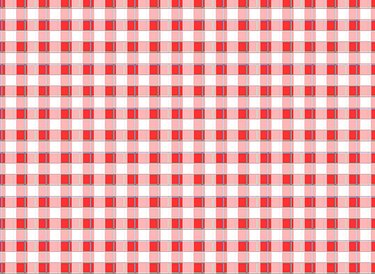 In the United States, old-school Italian cuisine includes traditional dishes such as spaghetti and meatballs, lasagna, pizza, fettuccine Alfredo and spices such as oregano, garlic and basil. The traditional Italian restaurants serving this type of fare are often designed with a matching old-school Italian decor that includes rich wooden tables and chairs, red and white checkered table cloths and soft lighting. Accessories often include hanging cured meats, cans of tomato sauce and bottles of olive oil. Old-school Italian restaurant accessories may also include wine bottles used as candlesticks, real or artificial grapevines, grape bunches and dried herbs hanging on the walls or suspended from the ceiling.
Modern Italian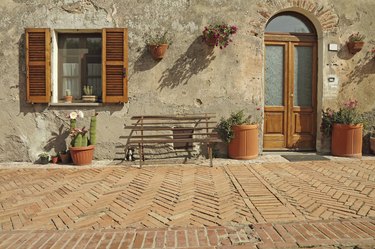 Italian restaurants in both Italy and the United States are decorated with a wide variety of different decor types, from traditional to modern. A modern Italian restaurant typically features clean furniture lines and a minimalist decor. Rather than the red and green hues of old-school designs, modern Italian restaurants are often painted and wallpapered in lighter colors such as cream or white. The walls are typically clean and may be accented with modern lighting fixtures and framed paintings, prints or photographs. Simple flower arrangements accented with fresh sprigs of oregano or rosemary add subtle Italian flair and fresh fragrance.
Themes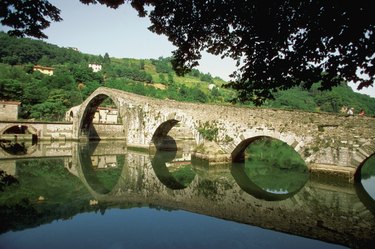 Another option in Italian restaurant decorating is to decorate with a particular theme. You could choose your favorite spot in Italy, such as Tuscany, Rome or Venice. A Venice-style restaurant could feature an extensive mural of the canals and gondolas. A Roman theme might have statue reproductions of Roman gods and goddesses, photographs of the Colosseum or reproduction prints of works by famous Italian artists. The Tuscan style is known for rich earth tones such as gold, green and rust, as well as the use of tiles and marble in floors, counters and tabletops. A Tuscan theme might also include paintings of the Italian countryside and the use of real or faux stone columns and pillars in entryways.