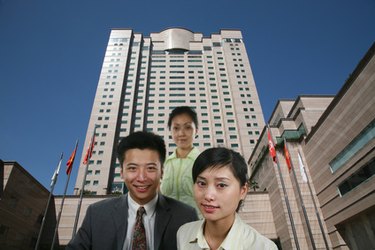 Gift-giving to Chinese visitors, whether they are business clients or house guests, necessitates both careful thought and cultural sensitivity. A cultural "faux pas" would be a serious mistake. Your first gift, however, should always be respect, for a Chinese visitor expects to be received not merely as a friend or business associate but as an honored guest.
Gifts to Avoid
All articles made in China should be avoided because they can insult and be inappropriate. Your Chinese guest is interested in what is here, not back home--your gift should remind him of a positive experience here. Giving a clock as a gift to a Chinese visitor is a cultural faux pas because the Chinese word for "clock" is similar to the word for "death." Likewise, all sharp instruments such as scissors, letter openers and knives should be avoided, as they tell your Chinese visitor in dramatic form that you wish to sever your relationship. Never give a fan to your Chinese guest because the word for "fan" resembles the Chinese word for "separation," which gives the message that you intend to end the friendship.
A green hat for a man is taboo because in China it means the man's wife is adulterous. Surprisingly, a book would not be a good idea for a visitor from Hong Kong since the pronunciation of "book" in Cantonese resembles the sound of "loss." Umbrellas, for similar reasons, are also to be avoided for any Chinese visitor. Although you should aim for quality with your gift-giving, refrain from spending too much to avoid embarrassing your guest.
Tourist Shopping Behavior
A good way to assess what gift might be prized by a Chinese visitor is to consider what Chinese tourists buy for themselves and their friends. Popular items are favorites over unique or unusual items. Status items--associated with sports celebrities, political leaders or film stars--are also favorite purchases. Chinese people do like to show off luxury, so branded or designer items end up in their shopping bags. Goods that are associated with festivals, local folklore and special athletic, musical, artistic or cultural events are also prized.
Gift Ideas
Given the Chinese visitor's personal preferences, a baseball or football cap and T-shirt are good gifts, even for business clients. Parker pens are famous in China and, together with leather wallets, make good choices. Giving wine, especially white or rose wines, is also an appropriate gift. Any gift that represents your city, state or region would make a fine choice, as long as it was not made in China. The Chinese are curious about the world outside China and its special customs and goods. Also, they prize art. Your gift need not be an expensive oil painting. Large, full-colored picture books of American art or coffee-table photography books with pictures of local American towns make good gifts. Giving tickets to a special event is also something to be considered because some visitors like to engage in activities frowned upon or nonexistent at home. If you know your visitor well, consider a cabaret show or a night at the casino.
Gift-Giving Tips
When presenting your gift, use two hands, not one. Insist on it being received, even if your Chinese visitor refuses several times to accept it. And, never wrap it in white, blue or black paper. Red is a good color for gift wrap. In addition, do not give single or odd-numbered gifts. Gifts in pairs or even numbers will not offend your visitor.