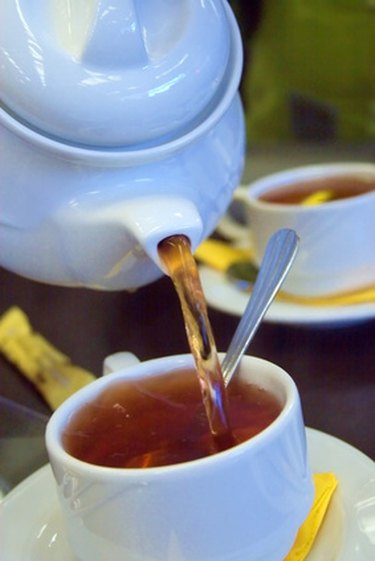 Many young children dream of having their very own tea party. Parents buy pretend tea party sets, but it isn't quite the same as having a real tea party with real friends, tea and food. In addition to the tea and food, your tea party guests can enjoy making some crafts and playing games.
Take-Home Tea
These little tea pockets are a useful way for your party guests to take home their own tea to make later. For each guest, you'll need two teapot-shaped pieces of paper. You can cut them out ahead of time using printed scrapbook paper or plain white paper. Printed paper will make the project go faster, but plain paper will give guests something they can customize. Turn one of the teapots over so that the printed outside (or the area the guests will decorate) faces the table. You can then run a line of glue along the edges of the teapot's sides and bottom only. Lay the other teapot on top of the first one, so that the printed side faces out, and press down to hold it in place. When it's dry, you'll have a teapot pocket that guests can stick a real tea bag inside.
Lacy Fans
Sometimes at tea parties—especially those held outdoors—it gets a bit hot. Help your guests cool down with this lacy fan from Disney Family Fun. Give each guest a paper doily and a piece of construction paper. If you'd prefer, you can use scrapbook paper; just cut it down to 8-1/2 by 11 inches before handing it to your guests. Guests will glue their doily to their piece of paper and let it dry. Once it dries, have your guests turn their paper lengthwise, and then they can begin folding the paper accordion style (in 1/2-inch increments) starting with one of the short sides. When they finish, they can fold one of the ends up about an inch for a handle.
Sugar Stacks
This interactive game from Amazing Moms uses real sugar cubes you might have left over after guests enjoy their tea. Provide guests with a handful of sugar cubes. When you say, "go," guests will stack their sugar cubes as high as they can before you call out, "stop!" The guest with the highest stack will be the winner. If you want, you can also require that they stack a certain number of cubes—say, 15—within a time limit. Alternatively, you can require that guests do this as a partner game. One person will hold up a serving tray, while the other stacks the sugar cubes. They'll have to work together to keep the stacks from falling. For even more of a challenge, have one guest hold a serving tray with one hand and use the other hand to stack the cubes (similar to the partner version except done alone).