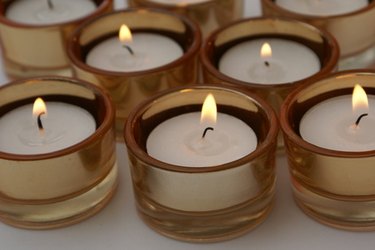 A sweet 16 party is, of course, an event to honor your growing daughter. However, the party is just as much about the parents as it is about the daughter. The traditional sweet 16 pays homage to parents and involves primarily the father as the central figure giving away his daughter, much like in a wedding. When planning a sweet 16 bash, keep these traditions in mind in order to make memories you'll cherish always.
Shoe and Crowning Ceremony
The girl of honor walks with her date wearing a pair of slippers or flat shoes. The tiara and shoes are brought out by her father and another significant male such as an uncle, godfather or grandfather. She sits in a chair and her father takes off her slippers and puts on her new shoes, which are typically a pair of heels. More recently, people have started to change from sneakers into heels. After putting on the shoes, the father puts her tiara onto the crown of her head.
Father and Daughter Dance
Before the festivities begin, the father and daughter must share a dance together. First, the father will present her to the guests. He can give a speech before they dance, where he talks about how proud he is of her or reflects on his memories of her. He can also simply show her to the crowd. Then, the two dance to a slow song. The song should be carefully chosen and should be a song that is special for the two of them.
Following the father and daughter dance is the candle ceremony. For this ceremony, sixteen candles are lit. Each candles stands for someone in particular who has had an impact on the girl. She can announce who each person is and talk about what they represent in her life. The first candle is usually for parents, the second for siblings or grandparents, candles three to six usually stand for family members, candles seven through 14 are friends, candle 15 is a best friend, and the last candle is a boyfriend or a best friend. Some traditions have a 17th candle for good luck. Once the candle ceremony is finished, "Happy Birthday" is sung, and the party officially begins.