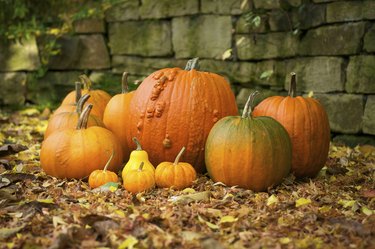 Pumpkins come in blue, green, white, red, yellow, brown and striped, but the traditional Halloween orange pumpkin is the poster child for the species. Pumpkin orange is the color most people choose for accents or bold statements in decor. It glows in a room full of muted colors and holds its own against strong hues and stark contrasts, such as black and white. The orange is cheerful and assertive and is just red enough to have a hint of autumn leaves and fall harvests.
Chess in the Library
A library is as traditional as pumpkin pie when it's decorated with glazed pumpkin walls, a cream ceiling, warm wood floors, furniture and bookshelves in reddish wood tones, and cinnabar leather club chairs. Tone down the pumpkin slightly with a touch of brown to mellow its vivid orange and align it with the wood in the room. Cinnabar velvet floor-length drapes lined in mint are suitably formal for a library, as is a creamy white marble fireplace. A large oriental carpet in mixed shades of pumpkin, burnt orange, cinnabar, cream, olive, mint and ruby coordinates with the sizzling, glossy walls.
Honeyed Harvest
Pumpkin orange and yellow are sunny and cheerful. In a kitchen, the terra-cotta floor, pale golden walls and butcher-block counters play with various yellows and oranges in a space as refreshing as a bowl of fruit. Pumpkin upholstery on a sofa and large ottoman brightens a living room with a toast berber rug, honey-gold walls, yellow and ivory wide-striped drapes and ivory milk paint on chair frames and side tables. A bathroom with white penny tile floors and subway tile shower stall and wainscoting gets the morning off to an optimistic start with lemon yellow upper walls and rich pumpkin orange towels and bath mat.
Coal and Ashes
Walls painted in soft gray, the color of fog, enclose a dining room set with contemporary pieces: a chrome and glass table, a mix of see-through ghost chairs and leather upholstered dining chairs, a mirrored sideboard, a modern metal and glass chandelier. Pumpkin orange anchors the room and piques appetites -- as the leather chair upholstery, the stained wood slat window blinds, and a Murano glass bowl on the table. Gray is enlivened by pumpkin, whether the gray is pale or as dark as coal. Mix pumpkin with charcoal or black without evoking witches and goblins when you add a black-and-pumpkin chevron table runner or hang pumpkin, black, pewter and white abstract art on the light gray walls.
Opposites Attract
Orange and blue are opposites on the color wheel, which makes those two colors complements, hues that highlight the best in each other in a dynamic contrast. Complement pumpkin orange with various shades of blue in a nursery or child's room, experimenting with faded turquoise or ice blue walls, a pumpkin patterned rug and pumpkin and white curtains. Paint an accent wall pumpkin, the rest of the walls pale teal and hang a happy word or the child's name in deep teal-painted letters over the crib or bed. Add lots of white to pumpkin for pastel walls, paint trim glossy white, and accent the decor with a navy-blue dresser, navy-and-white striped curtains and white bedding with appliqued navy nautical images -- an anchor, a sailboat, a flying fish, a sea star.