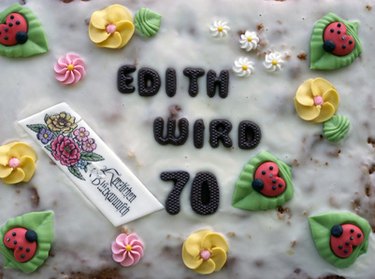 A 70th birthday is certainly something to celebrate. It's an occasion to celebrate the life of someone special to you--and by the age of 70, the birthday honoree has a lot of life to celebrate.
Depending on the personality of the 70-year old, the topic of "old age" might be something to avoid or something to crack jokes about. Regardless, the occasion provides an opportunity to recall fond memories and tell somebody how special they are.
Over the Hill
For honorees with a sense of humor about their age, an "Over the Hill" party theme provides entertainment and laughs for the everyone at the party. You can make "old geezer" bags full of jokes gifts, plastic skeletons or little shovels. A cake decorated with tombstones can also be funny.
Remember that an "over the hill" theme works great, but only for honorees with a certain type of humor--so think carefully about what the 70-year old wants out of a party.
Through the Years
A 70th birthday party also provides the opportunity to reminisce. Look for old family photos and set up a slide show, video montage or photo-collage off to one side (you can scan in the photos and use graphics editing software to make these).
You can also choose a couple of cherished friends or family members to make toasts--this lets the birthday girl know how much she means to the party guests. You could also videotape these toasts and put them together in a DVD later as a special gift to the honoree.
Decades
One idea involves picking a decade important to the honoree and centering the party around that decade--like the decade they were born, or the era when they were a teenager or young adult. Guests could come dressed in that decade's style, and pick popular dishes from that decade to serve as the food--for example, if you center the party around the 1960s, gelatin molds could be one of the desserts. You can also play music from that decade to really get people into the spirit of things.