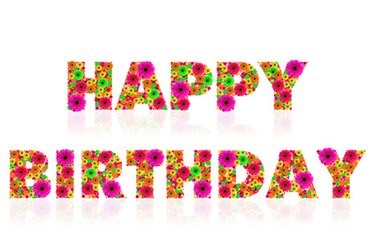 To honor your friends or family, prepare a presentation for their birthday celebration. Birthday presentations can involve slideshows, photo books or scrapbooks. No matter what type of presentation you choose, the honoree and the party guests will enjoy taking a ride down memory lane while celebrating another year with their special friend or relative.
Video Montage or Slideshow
Create a video montage. Websites such as One True Media allow customers to upload photos and videos in order to create video montages. You can add captions, background music, borders and special effects. Purchase the presentation on DVD for $24.99 and show it to birthday guests on a TV or through a computer and projector. Those experienced in Microsoft PowerPoint may want to consider using it to create their own photo slideshow. When saving the Powerpoint presentation, click on file menu, then choose "save and send" and finally "create video." This will allow you to save the file as Windows Media Video. Then, burn the video to a DVD disc for playback.
Photo Book
Choose your favorite pictures of the birthday honoree and upload them to a site such as Shutterfly or Snapfish. You can customize backgrounds, layouts and photo captions. Book pricing ranges from $12.99 to $69.99. Books can contain from 20 to 1,000 pictures, depending on the book's size. Display photo books for guests during the birthday party and give them to the honoree after the gathering.
Scrapbook
Consider creating a traditional scrapbook for the birthday party honoree. To make a scrapbook, you will need a scrapbook cover with at least 20 page protectors. You will also need scrapbook paper backgrounds, graphic stickers, letter and word stickers, and other embellishments. You may want to make the scrapbook chronological by including photos from birth to present day, or you may just want to highlight important events in the honoree's life. For a personalized touch, get family members or friends to write memories of the honoree in the scrapbook.