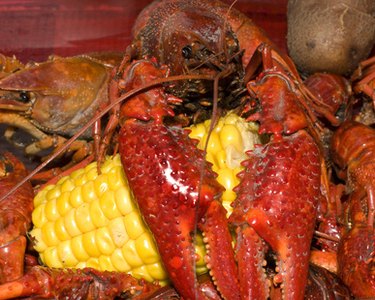 Set the mood for a great time when you choose a Cajun theme party. With a little effort, your party guests can feel like they stepped into a fais do do on the bayou, complete with the spicy flavor and infectious party spirit that Cajuns are famous for. Creating the mood is all about bringing together the elements that distinguish Cajuns: swamp chic, flavorful food and foot-stomping music. Laissez les bon temps rouler! Or as we say in English, let the good times roll!
Zydeco
Zydeco is a style of music unique to Cajuns and Creoles, a fusion of musical style with influences from French Canadian and African ancestry. The primary instrument used in zydeco is the accordion, but if no accomplished accordion players happen to be handy, put on a zydeco recording and assemble a band to play along using anything handy. Early zydeco bands incorporated washboards, spoons, triangles, jugs and other ordinary items in their performances.
Food
Cajun food is spicy and flavorful. For an authentic Cajun feast, mud bugs--most people call them crawfish--are essential. Fried catfish, jambalaya, gumbo and Etouffee are staples on any Cajun menu. Keep it simple with a dinner including crawfish, potatoes and corn on the cob boiled in the same pot, or go all out with a flavorful Cajun buffet. For drinks, mix up some southern favorites like hurricanes, bloody Marys, and mint juleps, along with plenty of cold beer, sweet tea and lemonade.
Decorating
Think swamp and round up things like fishing nets, thick ropes, Spanish moss, magnolia blossoms and rubber or plastic alligators to create atmosphere. Add the illusion of fireflies with twinkling white Christmas lights wound throughout trees, foliage or potted plants.
Mardi Gras began as a Cajun celebration, so a Mardi Gras theme with beads, feathers and a purple, gold and green color scheme would work as an alternative upscale choice. Red pepper chili lights or decorations are fun and appropriate for either decorating theme.