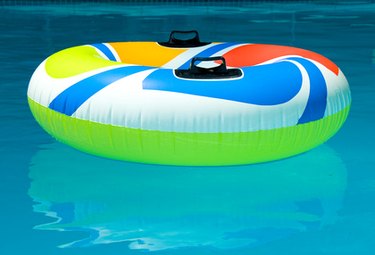 Pool parties are favorites of many young adults, which makes them perfect for eighteenth birthday parties. Whether you'll be having the party at a public park, in your backyard or at a rented venue, this celebration can be quite easy to pull together. With just a few touches and the right menu, your eighteen-year-old will have a very enjoyable and memorable birthday.
Invitations
Most 18-year-olds are into social media and using electronic communication, so you can save money by sending free email invites from a provider such as Evite, Socializr or MyPunchBowl. To get the word out to the most people at once, set up an event page on a social networking site that the guest-of-honor uses, such as FaceBook or Myspace, and invite their friends. This will allow you to track who's planning to come as well. If you prefer to send traditional paper invitations, keep them simple and sophisticated--this means no glitter or cartoons.
Food
Though most teens turning 18 want to feel like a grown-up, the truth is that they still enjoy eating childhood favorites such as pizza, macaroni and cheese and hot dogs. To give such dishes a sophisticated twist, try the following: individual pita bread pizzas topped with chopped basil, mozzarella and prosciutto, tossed onto the grill poolside; buttered ramekins filled with baked macaroni and cheese; strips of chicken breast coated with breadcrumbs and parmesan, baked until thoroughly cooked and crispy, served with honey Dijon and spicy barbecue dipping sauces. For a themed dessert, keep it light by offering an array of chopped exotic fruits, such as kiwi, strawberries, guava, starfruit and melon. Although you cannot serve the under-aged guests alcohol, give them "virgin" versions of tropical favorites, such as strawberry margaritas made with strawberry puree, ginger ale and lime juice, peach bellinis made with peach nectar and sparkling water or grape juice, and Bahama Mamas with coconut, orange and pineapple juice, garnished with maraschino cherries.
Activities
When it comes to planning activities for an eighteenth birthday pool party less is definitely more--there will be budding adults at the celebration, not children that need to be directed. Put out a stereo system, a steady supply of the guest-of-honor's favorite tunes, and hand out pool toys, such as rafts, floating sticks and beach balls, then let the guests make their own fun. Do stay on-site to ensure that everyone is playing in the pool safely. If you just have to plan a game or two, try a dance contest or a few rounds of pool volleyball.