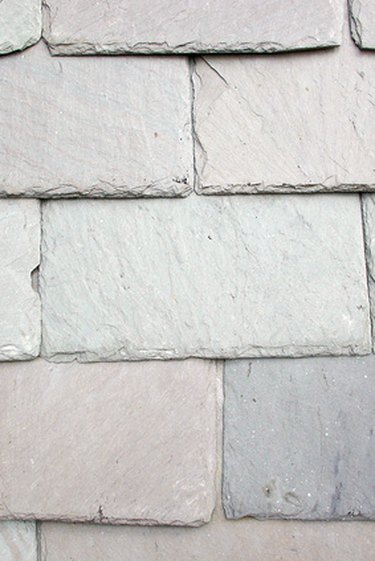 White roofing is not a common color for most American homes, but it might keep your home cooler in the summer in sunny areas. If your home's roof is white, you'll want a paint job that helps show it off. White trim can help tie the look together if you match it carefully with the roof tone, but be wary of using white, cream or similar colors on the body of your home, as they are likely to clash.
Warm Surroundings
If your home is in a desert or other sunny area, as is likely for a white roof, try blending with the surroundings a little while also bringing out the best features of your home.
Rich tans and terra cottas look good in these surroundings, and the white roof adds contrast to the deeper tones, making the home look less dark and heavy.
Add splashes of color with dusky blue or green trim around the windows and the edges of the roof. Try to match the color of any doors with your white roof to add unity to the look.
Cooling Off
For wooded areas or neutral surroundings, or if you simply want cool colors for your home, try a vibrant green in contrast with your white roof. Use pale green trim to offset the deep color.
For damp areas, such as the Pacific Northwest in the United States, avoid trying to color match the white roof in your trim or doors unless you will be diligent about treating your white roof for moss and mildew growth.
More subtle cool colors can also be used with a white roof, such as gray-blues and sage greens. The effect is not as striking, but if the intent of the white roof is to minimize heat absorption, sticking with paler colors is your best bet.
Neutral Tones
If you prefer the subtlety of neutral colors on your home's exterior, select a gray paint with cool undertones. These grays will seem sort of bluish when held up next to warm grays, and you will need that blue undertone to get the best look against a true white.
Find a medium gray that is dark enough to stand out from your white roof but not overbearing. For trim, choose a white that matches your roof if possible; if not, use a darker gray or add a bit of color with rose or burgundy around the windows, doors and roof.
Whites
If you really feel you must use white for your primary exterior color, match the shade as closely as possible to your roof.
Paint the trim a vibrant contrasting color, such as red, green or blue in primary tones, and make sure to paint all around the edge of the roof's trim, whether it is wood or gutters, so there is no place where the roof and house paint meet without the color in between.