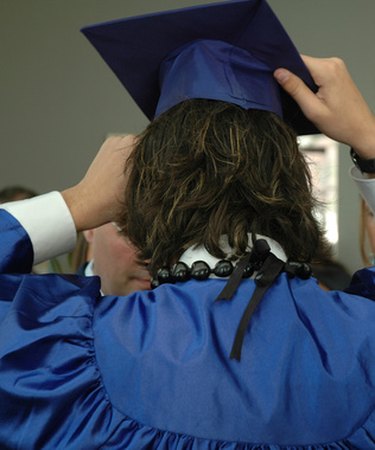 No matter the age of a graduate, the event is worthy of celebration. If you have an adult friend who is graduating from high school, college, graduate school or technical or specialized program, then consider hosting a graduation party for the graduate. You can incorporate simple, thoughtful ideas that will make the party both sentimental and that will honor the graduate for achieving such high honors.
Graduation Potluck
Host a potluck at your house. This is a friendly and easy way to throw a party. You can provide the main dish, drinks, ice and utensils. Ask all of the guests to bring a side or a dessert. Gather at your house or in your backyard. Decorate your space with card tables covered with white tablecloths and napkins in the colors of your graduate's school. Tie a few balloons--also in school colors--around folding chairs nestled under the tables. Use a few bud vases or wide-based candles as centerpieces.
Money Tree Party
Invite guests to bring cold hard cash to pin on a money tree for the graduate. You can provide dessert and drinks and make the party an "open house"-style party so that guests can drop in whenever they can during the afternoon. Set up a faux tree at the front entrance along with a basket of clothespins. As guests walk in, have them add their bills to the "money tree" with the clothes pin. At the end of the party, that graduate will have a gift of cash to help with expenses along the way.
Wine and Cheese Party
For the graduate who likes wine and cheese, hold a "graduation soiree." Invite guests to dress up and drop by to drink a glass of wine, eat cheese (and a little dessert) and congratulate the graduate. This is an elegant, adult-appropriate gift that should be held in the evening after 5 p.m. Your invitations can be simple yet elegant--think black and white and a script font. Decorate tables with rose petals.