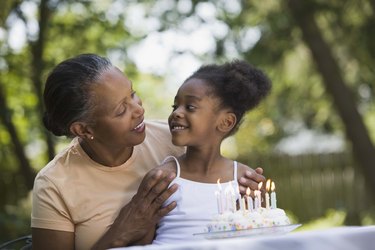 Grandmothers come in many varieties these days. There are grannies in their 30s all the way up to 90 and beyond. Picking out the proper birthday playlist for your grandmother really depends on the woman herself. Think outside of the gift-wrapped box to come up with some fun, thoughtful and entertaining songs with which to celebrate Grandma's birthday.
Classic Rock and Motown
One of the most beloved classic-rock anthems of all time is "Birthday" by the Beatles, which is a great song for any birthday bash, especially if Grandma is a fan of that era. For something more sentimental, consider either the Bob Dylan or Rod Stewart hits that share the title "Forever Young." If your granny likes a little bit of a Motown groove, Jackie Wilson's "Higher and Higher" is sure to please. Play Stevie Wonder's "Happy Birthday" to get a more thematic groove. For something a bit more of the easy-listening variety, play "Happy Happy Birthday Baby" by the Tune Weavers or "How Sweet It Is (to Be Loved by You)" by James Taylor.
Country and Folk Music
If your grandmother is a fan of classic country music, you can't go wrong with "Happy, Happy Birthday Baby" by Ronnie Milsap or Loretta Lynn's "Happy Birthday." For something in the country genre but a tad more modern, add Jimmy Buffett and Martina McBride's song "Trip Around the Sun" to your playlist. For a more contemporary folk-music vibe, the Sufjan Stevens song "Happy Birthday" or Andrew Bird's "The Happy Birthday Song" both hit the sentiment square on the head. A lovely song in that genre celebrating the next year of life is "This Year" by the Mountain Goats.
American Standards and Crooners
Grandmothers who prefer songs from the Great American Songbook are sure to appreciate the sentiment of "It Was a Very Good Year" by Frank Sinatra or "Always" by Irving Berlin. For more contemporary choices from that genre, consider "Circle of Life" by Elton John or Bette Midler's "Wind Beneath My Wings." Elvis Costello and Burt Bacharach collaborated on a beautiful song entitled "Tears at the Birthday Party," which has themes of both joy and sadness, sometimes appropriate when celebrating a long-lived life.
Punk Rock or Rapping Granny
If Grandma is more of a punk rocker, get her moshing with Nick Cave's first band, the Birthday Party's "Happy Birthday." Remind her to "Stay Free" with the classic punk anthem of that title by the Clash. Perhaps your granny is more of a thug than a punk. Get the DJ to spin up 2 Chainz' "Birthday Song," Twista's "Birthday" or R. Kelly's "It's Your Birthday." If your grandmother is known for her sense of humor, you may want to play the comedic "The Grandma Song" by Adam Sandler.