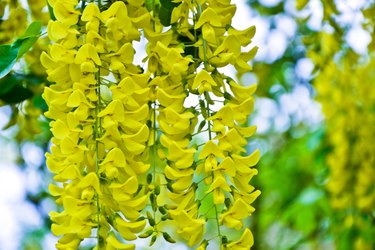 A laburnum tree, also called a gold chain tree, is a small tree characterized by its stunning, closely packed yellow flowers that bloom in the late spring. They make beautiful additions to landscaping and thrive in the right conditions. Like all trees, though, gold chain trees can experience diseases and other issues. If you have one of these trees, you'll need to identify the diseases if they happen and treat them promptly to protect the health of your laburnum tree.
Common Gold Chain Tree Diseases and Issues
Golden chain tree leaves are one of the most common parts of the tree impacted by diseases. One disease, leaf spot disease, is a fungal infection that creates brown spots on the leaves. You can treat it with fungicide, but make sure you apply it according to the manufacturer's instructions. The optimal time to apply these fungicides is in the early spring, and you'll want to put them on two or three times.
Another leaf disease for laburnum trees is laburnum vein mosaic. Mosaic viruses affect over 150 types of plants, and it is recognizable by the blotches and streaks it creates on leaves. It's difficult to treat, so prevention is the best medicine. Insects often spread it, so use insecticide and include repellent plants in your yard. Weeds can also carry it, so keep your yard weeded and use weed killer.
Finally, twig blight also impacts gold chain trees. As the name implies, it affects branches, especially new growth. You'll see discolored branches. A fungus usually causes this condition, so treat the tree with fungicide. To treat it, prune the infected branches and do not compost them.
Other Golden Chain Tree Problems
A chain of gold tree is susceptible to other common plant problems, including the unfortunate disease known as root rot. Root rot is a phenomenon that impacts a lot of plant life, and it's one of the reasons well-drained soil can be so critical in a garden or yard.
Root rot occurs when a plant's roots sit in standing water for too long. Regular soaking is suitable for most flora, but if the roots sit too long, it allows fungi, mold and bacteria to proliferate beyond the levels that a tree can handle. They infect the roots and in turn impact the whole plant, making it harder for your plant to get the nutrients it needs to survive. To prevent root rot, you can read about proper irrigation techniques for your yard and implement them.
Other problems common to golden chain trees are usually related to improper care. You can prevent these issues by learning more details about the correct care of one of these trees.
Caring for a Laburnum Tree
The laburnum is native to southern Europe, but it grows worldwide. In the United States, it's best suited to USDA plant hardiness zones 5 through 7. They're considered small trees but can still reach 20 to 25 feet tall and 12 to 18 feet wide. Ensure that wherever you plant them, they have enough room to grow. They also require full sun, at least six hours per day.
In terms of soil, they survive in loamy or sandy soil, but these trees can't tolerate a lot of salt or acid. If you're unsure about your soil composition, purchase a test kit. The earth must also be well drained, so take steps to improve your irrigation if that's an issue on your property.
It's critical to know that laburnums are toxic to humans and many animals. Keep children and pets away from them, including the leaves and roots. You'll need to regularly prune the trees in the first few years. Once established, laburnum trees require little maintenance, and you can enjoy their stunning spring blooms every year.