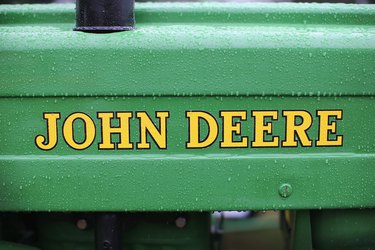 Produced between 1975 and 1987, the John Deere 214 is a small duty mowing tractor from John Deere's factory in Horicon, Wis. A 512cc Kohler one-cylinder gasoline engine powers the 214 tractor, which features manual steering, band brakes and a 46-inch wheelbase. As an older model, the 214 is bound to require repairs and routine maintenance; make sure your parts are compatible before going to work.
Engine Parts
The John Deere model number AM119837 starter motor is compatible with the John Deere 214 tractor, among other John Deere tractors. For ignition coil replacements, users should turn to the John Deere ignition coil AM132453, a coil designed for coil spark ignition systems such as the one featured on the 214 tractor's Kohler engine. John Deere's electric lift motor AM33929 fits its 214 tractor, as do the AM35000 ignition system breaker points, manufactured by Kohler specifically for John Deere tractors. For complete engine rebuilds, the John Deere motor mount AM102557 works with the 214 model tractor.
Small Parts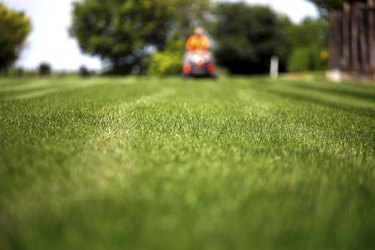 For front wheel bearing replacement, turn to the John Deere front wheel bearing AM102605. Sometimes known as a capacitor, the John Deere ignition system condenser model number AM31029 from Kohler works with the 214 tractor's ignition system, as does the manufacturer's John Deere ignition system breaker point cover casket M84723. For tune-up and maintenance purposes, John Deere's paper air filter M47494 replaces worn filters while Champion H10C spark plugs are compatible with the 214 tractor. As far as mower blades go, users have a range to choose from. Blades compatible with the 214 include the 38-inch cut John Deere medium lift mower blades, 46-inch cut John Deere standard lift mower blades, 38-inch cut John Deere high lift bagging mower blades and John Deere standard lift mower blades for 39 and 41-inch mowers. The tractor will need three blades for operation; most John Deere blades come in kits containing two to three blades.
Accessories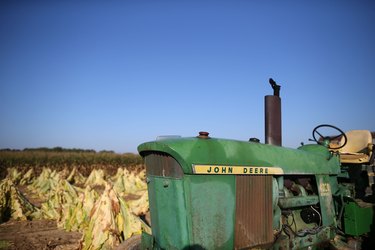 Certain parts compatible with the John Deere 214 are nonessential, but still useful. For instance, while every mower needs a fuel tank cap—the 214 works with John Deere's AM102924 fuel tank cap—not every mower needs a fuel tank cap that also serves as a gas gauge; however John Deere's part number AM36948 fills this role. John Deere's complete replacement seat assembly replaces worn 214 tractor chairs, featuring molded yellow vinyl construction, high resiliency foam padding, a formed steel pan and four bolting points.