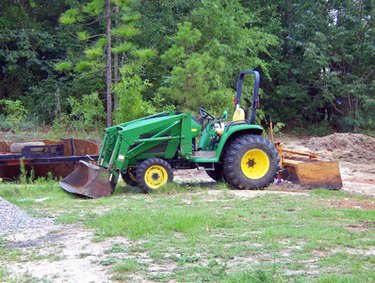 Most John Deere utility tractors produced from the mid-90s forward include a dual function selective control valve (SCV) lever, commonly called a joystick. The SCV lever controls lift and curl on the arms of an attached front-end loader, which is a popular option for utility tractors. The hydraulic system and the joystick put thousands of pounds of working force at your fingertips.
Basic Function
The basic functions for the SCV lever work by pulling and pushing it in different directions. Pull the lever back toward the operator's station to lift the loader boom arms. Push the lever forward to lower the loader boom arms. Pull the lever to the left, toward the operator's station, to curl the bucket back toward the tractor. Push the lever right to dump the bucket.
Float
On most John Deere models, pushing the lever forward until it locks puts the boom arms in "float" mode, where the bucket will follow the ground contour. This is a useful feature when spreading gravel or grading a yard.
Dual Function Operation
Also on most models, while using the lever for one operation, you can perform a complementary operation simultaneously. For example, if you're pushing forward to lower the boom arms, you can push right while the lever is still in the forward position. This will lower the boom arms and dump the bucket at the same time. On some of the smaller John Deere compact utility models, this dual function capability is present but somewhat limited.
Variable Speed Control
The variable nature of the selective control valve provides another subtle feature that offers the operator control. The rate of lift or curl depends on how far you push or pull the SCV lever. A gentle nudge forward on the lever will lower the boom arms very slowly. Pushing the lever hard right dumps the bucket immediately.
Bucket Angle
All John Deere buckets have a small lip formed into the top of the bucket that is parallel to to the bottom of the bucket. This provides the operator an easy reference for whether the bucket is angled to dig in when driving the tractor forward. Most loader models also have a bucket level indicator included or available as an option. With a bit of experience, an operator can accurately align the bucket with ground level using a bucket level indicator.
Not Just for Buckets
The power of the front-end loader and the joystick is not limited to just a bucket. All John Deere utility tractors have the capability to replace the bucket with pallet forks, a grading blade, a root rake, a bale spike or one of several other digging, lifting or carrying implements. Most models feature a quick-change mounting system that lets you change loader implements from one to another easily and without tools.