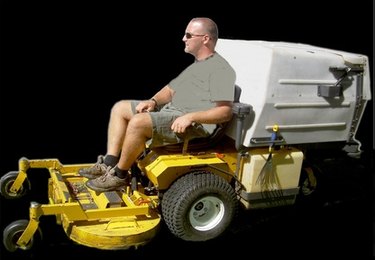 Maintaining a neatly trimmed lawn sometimes requires more than a lawn mower that you get behind and push. Technology has made it easy and convenient to maintain mid-size to large lawns. Kohler and Briggs & Stratton tractors are a prime example of the advances in consumer garden equipment. They power all kinds of lawn and garden mowers.
History
Whether pushing or riding the mowers they power, both engine types make mowing considerably easier. Between 1960 and 1980, Briggs & Stratton helped power the rapidly growing suburbs. Various lawn and garden products contained their engines, like the seven-horsepower engine, model 19 ser.3633 found in the 1960 Simplicity Wonderboy 700. In 1999 Kohler's Command PRO single and twin-cylinder engine models were introduced. The consumer and commercial garden and turf tractor industry was the target of these Kohler engines.
Considerations
Those in the market for a Kohler or Briggs & Stratton should consider some important points before making a purchase. These strong and powerful engines enable the lawn equipment to work effectively. That is why so many brands exist. Tractor manufacturers are different from engine manufacturers. Kohler engines and Briggs & Stratton engines are located in lawn and garden products that are manufactured by someone else.
Types
Among the lawn products Kohler engines power are Toro, Poulan, Craftsman and John Deere. Briggs & Stratton engines power Ferris, Simplicity and Snapper brand mowers, to name a few. Products like the Craftsman Yard Series (YS4500) come in two models, one with a Kohler engine and the other a Briggs & Stratton. Noticeable differences are the four-gauge wheels on the Briggs for a smoother ride, versus two-gauge wheels on the Kohler. Also, the Kohler has a deluxe steering wheel for easier maneuvering, while Briggs has a standard steering wheel. Though the cost in this instance happens to be the same (around $1,300), generally Briggs & Stratton costs less than Kohler. A variety of Craftsman mowers use Kohler and Briggs & Stratton engines.
Features
Both Kohler and Briggs & Stratton mowers have fuel gauges that are easy to read. The less expensive gear-driven models are manually operated with a lever for shifting speeds. Mowers conveniently discharge clippings on the side, but there are other advantages with the models that provide extras. This includes cruise control, as with Kohler's Toro LX420 model, or the innovative LawnScaper cutting deck on the Briggs & Stratton Poulan XT. Cruise control adds to the rider's comfort and the single-blade technology of the LawnScaper is believed to provide a more precision cut.
Warning
Selecting the right engine to suit the size of the job and the type of terrain is essential. Walk-behind mowers typically service lawns less than ¾ of an acre; a small 20-inch walk-behind mower can generally handle this size yard or smaller. One acre or more may require a larger zero-turn mower. A crucial consideration is the physical condition of the person operating the mower. The user must be fit enough to operate it effectively.