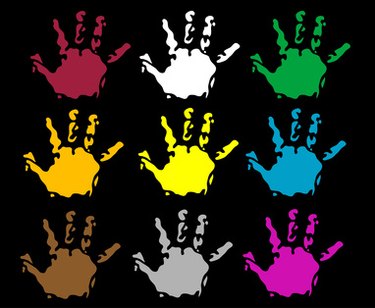 Adding your child's handprint to a shirt, apron or tote bag is a fun and attractive way to create a childhood keepsake. Use paint that is certified non-toxic, so that it is safe for your child to use. Many manufacturers offer non-toxic paint in a variety of colors that can help make your handprint craft as unique as your child. When shopping for paint, make sure that it has the AP Certified Non-toxic seal.
Color Splash
Color Splash paints come in a large assortment of colors. They also produce metallic and dimensional paints to create special effects for your handprint projects. If you want to create more special effects, try fluorescent paints. Read the label to make sure that the paint is non-toxic, as Color Splash also manufactures paints that are not suitable for children.
Tulip Fabric Paint
Tulip offers a wide selection of non-toxic acrylic paints. Tulip paints are available in many craft stores. Tulip paints come in traditional colors, and in fun combinations such as metallic pink.
Plaid Fashion Dimensional Paint
Plaid Fashion Dimensional Paint comes in more than 40 colors and carries the AP Certification seal. The paints are suitable for wood, plastic, metal and fabric. Available finishes include pearl, metallic, glitter, sparkle and neon. Plaid paints can be purchased online, and there is a catalog available for download.
Plaid Folk Art Fabric Paint
Plaid Folk Art Fabric Paint is an acrylic paint that comes in many colors. The paint works for many fabric painting projects, including handprints. Plaid products are lead-free, according to information provided by the company.