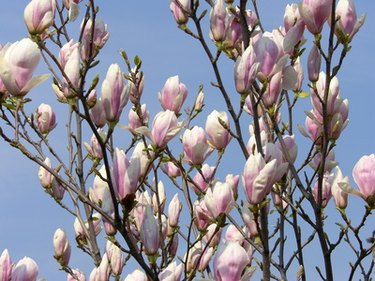 Although Magnolia trees are not a tree species native to Washington, many varieties do well in the western part of the state. Western Washington is in U.S. Department of Agriculture hardiness zone 8, and a number of magnolia varieties are suited for this range. Whether grown as a landscape tree, or in a container for the patio or deck, magnolias make attractive additions to a yard or garden.
Cucumber Magnolia
Cucumber magnolia (Magnolia acuminata) is one of the fastest growing magnolias. A deciduous magnolia that originated in eastern North America, it does well in western Washington. It has better fall color than any of the other Washington magnolias, with red seed cones against yellow leaves. The seed cones that look like small cucumbers give the tree its name. Cucumber magnolia reaches a height of 60 to 80 feet, with a spread of 35 to 60 feet. The lower branches of un-pruned cucumber magnolias will touch the ground. Its leaves, which are green in the summer before turning yellow in the fall, are oval.
Saucer Magnolia
Saucer magnolia (Magnolia x soulangiana), sometimes referred to as "tulip tree," is one of the 120 different types of trees found on the Washington State Capital campus in Olympia. There are five saucer magnolias in different locations on the campus. They purportedly originate from a tree one of Napoleon's army officers hybridized in 1826. Saucer magnolia is an attractive tree in the spring, when it produces spectacular large white flowers tinged with purplish-pink. It grows to a height of approximately 25 feet, with a 20 to 30 foot spread. The green leaves of the saucer magnolia are oblong, and turn yellow in the fall. This variety of magnolia is popular as a container plant on decks and patios.
Southern Magnolia 'Alta'
Southern magnolia is an evergreen species of magnolia, with creamy white flowers in the spring, which is native to the southeastern region of the United States. It is easily grown in western Washington. Southern magnolia 'Alta' (Magnolia grandiflora "TMGH") is a variety particularly well suited for small gardens, growing 40 to 50 feet in height, with a 20 to 30 foot spread. 'Alta' was a chance seedling, discovered in a production field in Statesboro, Georgia. Its branching is more upright than that of other magnolias, and it has a dense growth habit, which makes it ideal as a landscaping choice.