If you have a stash of old CD cases, don't toss them in the trash. There are creative ways to recycle CD cases into useful and attractive items that you can keep for your own use or give away to friends and family. Some of the ideas for CD cases make great crafting projects for children or can be incorporated into a project for Scout troops, Vacation Bible Schools or other youth organizations. With a little glue, a few tools and some creativity, you'll be amazed by what you can make from CD cases.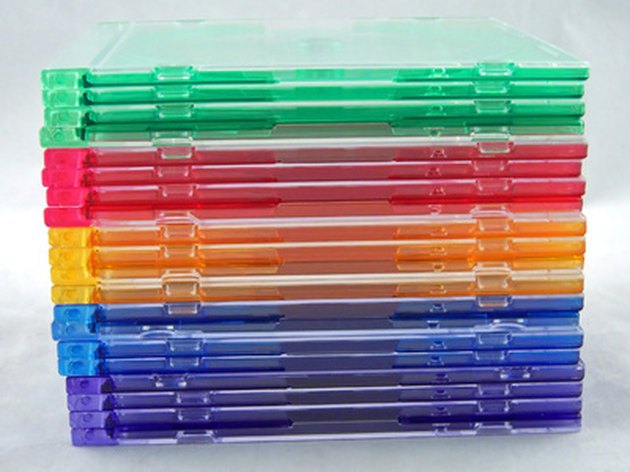 Suncatcher
You can make a beautiful suncatcher from a CD case. This is a great project for children. Set your young crafters up with some poster paints, brushes and water. Give them each an old CD case to paint. Have them use the side of the case where the hinges close as the top of their painting. Once their project is completed and the paint is dry, open the case and run a loop of twine around the case. Close the case to keep the twine in place and use the loop to display your child's creation.
Magnetic Picture Frame
Print a copy of your favorite photo to the size of the CD case. Insert the photo into the case and glue magnets on the back. You now have a photo frame for your refrigerator. These make great little gifts and are an ideal way to share photos of your children with family members and friends. You can also make these little picture frames for students who can hang them in lockers.
Organizer
Those old CD cases make great desk organizers. You can use one for holding rubber bands, one for paper clips and one for thumbtacks. If you are a crafter, you can use the old CD cases to hold bits of ribbon, beads, thread or needles. Use them to sort jewelry. They are especially useful for this purpose if you are traveling. Use one to store your earrings, one for rings, one for bracelets--then drop the cases in your suitcase with no worries about small items of jewelry becoming lost.
Gifting
A great way to put the old CD case to use it to use as a way to present a gift card. Decorate the outside cover of the case and then slip the gift card inside. If you're a gardener and you want to share seeds with friends or family, decorate the outside of the case with a gardening scene or pressed flowers, the slip a small envelope of seeds inside.