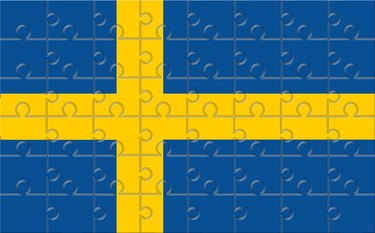 Children can learn about Swedish culture by making crafts that are common to holidays and other celebrations in Sweden. Many Swedish crafts revolve around the Christmas holiday season because it is a welcome break to the long northern winter. Other celebrations such as Midsummer are also important in Sweden.
Straw Ornaments
In Sweden, many ornaments hung on the Christmas tree are made from straw. Traditional shapes include hearts, angels, goats, birds and stars. The easiest straw ornaments for children to make are six-pointed stars. Children can tie small bundles of straw together with red string at their ends to make two triangles and then tie those triangles together to make a six-pointed star.
Swedish Flag
Young children can easily draw and color a Swedish flag as a craft. The flag has a royal blue background and two yellow stripes that form a Scandinavian cross. The horizontal yellow stripe is centered on the flag, but the vertical stripe is slightly off-center to the left side. The width of the stripes is equal to about one-fifth of the shorter vertical dimension of the flag.
Dala Horse
Dala horses are traditionally made out of wood, but children can make dala horse crafts out of paper or felt. Two dala horse shapes should be glued or sewn together around the edges and stuffed with a few cotton balls or other fibrous filling.
Maypole or Flower Wreath
The Swedish Midsummer festival traditionally includes a Maypole and many girls wearing flower wreaths. Children can make miniature maypoles by stringing leaves, flowers and other outdoor items onto strings attached to a small pole. They can make flower wreaths by collecting small flowers such as daisies, slitting the stems, and inserting each subsequent flower through the slit in the stem of the previous flower.
Paper Heart
Swedish woven paper hearts can serve as small gift bags for Valentine's Day or other holidays. They are typically made from two different colors of paper, cut into long rectangles with rounded corners and folded in half. Once folded, two or more cuts are made from the folded edge to just past the middle of the rectangle. The papers are woven together by alternately putting a folded strip of one color through and around folded strips of the other color.