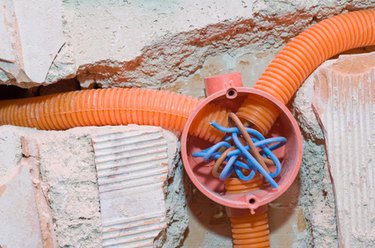 The National Electrical Manufacturers Association (NEMA) assists in categorizing junction boxes by labeling them according to their usage type. Boxes for outside use are labeled as NEMA 3R or 4 and those for indoor use have a NEMA 1 label. When installing junction boxes, you cannot install a metallic box in a nonmetallic raceway--an enclosed tube to encase and protect electrical wires--unless you run a ground wire to the box.
One-gang Plastic Nail Box
The typical junction box is a one-gang plastic nail box used for ROMEX® wiring, otherwise known as nonmetallic-sheathed cable. A nonmetallic-sheathed cable is most often a cable with a thick plastic coating that guards it from damage and accommodates outlets and switches.
One-gang Metal Cut-in Box
The one-gang metal cut-in box has adjustable mounting ears for an increased, stable fit, which makes it ideal for a flush installation. Flush installations place the junction box so that it is level to the wall plane and does not protrude outward. This junction box works for outlets and switches. It has knockouts for metal flex. Metal flex is a flexible metal hose that electrical wires can run through, keeping them protected and flexible to fit in most wall construction types.
One-gang Handy Box
This basic metallic one-gang handy box holds outlets and switches. It installs directly on top of the wall to accommodate a microwave outlet. Its primary use is in a garage or shop area with conduits.
Two-gang Plastic Face Nail Box
The two-gang plastic face nail box is a junction for outlets and switches. This box is especially helpful for tight spots with minimal nailing room. Because of its shallow depth, it provides more room to hammer in nails.
Metal Pancake Box
The metal pancake box is approximately 3 to 5 inches in diameter, and it works for lighting fixtures. This box mounts onto the framing surface, flush with finished drywall.
Four-square Metal Box
The four-square metal box uses raised rings for single gang or double gangs, triple gang and quadruple gang. It works for receptacles and switches. This box is a surface-mounting box and typically used in garages and shop spaces with electrical metallic tubing (EMT) or flex conduit. Instead of EMT, you can use a metal clad cable, which is similar to ROMEX®, but wrapped with an aluminum or steel sheathing to protect inside wires. This also protects the health of occupants, because the electricity from the wires releases harmful electromagnetic fields (EMF), and the metal sheathing contains the EMFs within them.