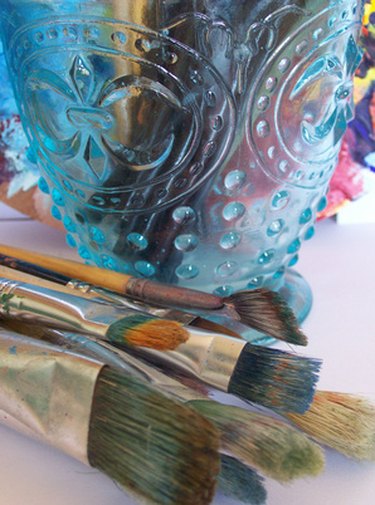 Many kids, ages nine to 12, think craft projects are just for little kids and old ladies, but there are many crafts geared toward the tween crowd. Creative crafts, for kids this age, are made of paper, fabric, leather, glass and just about any other material available to them.
Vases
If your child loves getting flowers or picking bright blooms out of your garden, encourage her to recycle some of your old glass bottles to make homemade vases.
For a colored-sand bottle, remove any label or glue left on the bottle. Wash and dry it. Mix a little white glue and water to form a thin paste. Use a paintbrush, sponge or your fingers to cover the outside of the bottle with the glue paste. Carefully sprinkle colored sand over the entire bottle until it is evenly and completely covered. Allow it to dry for 24 hours. Shake off any loose sand. Use hot glue to attach a decorative ribbon around the top or bottom.
To make a vase that resembles stained glass, all she needs is white glue and colored tissue paper. Remove any label or glue from the glass; wash and dry it. Tear the tissue paper into small pieces. Glue them, one at a time, to the bottle. Use a paintbrush to apply the glue to the bottle. Overlap the pieces of tissue paper for more depth and deeper colors. To dress the vase up, tie a decorative ribbon around it.
For a personalized vase, your child can paint a glass bottle, mug or jar. She can paint a scene, decoration or words using acrylic paint. Remove any label or glue from the bottle. Wash and dry it. She can tape stencils to the glass and paint them or do freehand work. Either way, these bottles make great gifts for any occasion.
Picture Frames
Children ages nine to 12 love having pictures and memories of all the people they love and any activity they enjoy. Let them create personalized picture frames to showcase their photos. Get a plain wooden picture frame at any craft store. Your child can decorate it with paints, feathers, flat-backed crystals and any other object that can be glued on.
Gourd Heads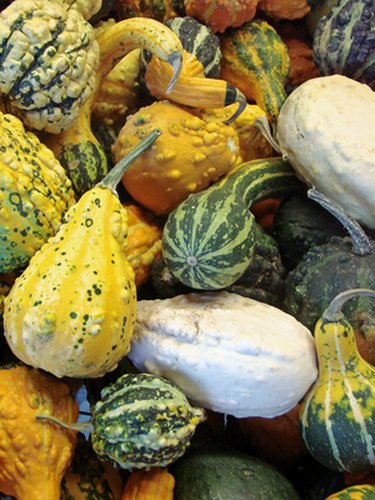 Help your child get into the holiday spirit by making gourd heads. He can take a clean, small gourd and paint it with acrylic paint. Using craft scraps, googly eyes, ribbon, pipe cleaners, gemstones and construction paper, he can turn his gourd into any creature or holiday character.