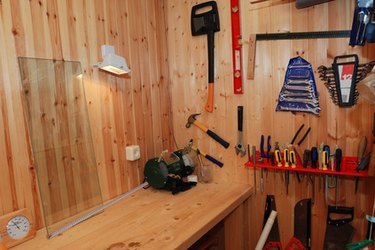 A pegboard offers a convenient place to hang objects that you want to keep close at hand. It is made of compressed wood and is covered with evenly spaced holes. These holes are there to accept hooks, or pegs, from which objects can are hung. Often seen in retail stores, pegboards can also be commonly found in garage with tools suspended from them. Alternatives for pegboards are sometimes sought because pegboard requires special installation, and it can buckle under the pressure of too much weight.
Plywood
Bolt plywood to the wall where you need to hang items for easy access. Sheets of plywood can be cut to any size and bolted to the wall to form an inexpensive pegboard alternative. Tools are then hung on nails instead of hooks. To specify where each tool belongs, trace an outline around each item directly onto the plywood.
Slat Boards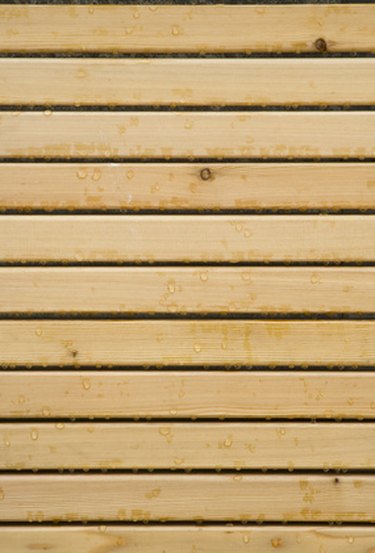 Hang slat boards in places where you want something more polished-looking than plywood. Slat Boards are pulverized plywood boards that have horizontal openings where brackets can be attached. These boards hold more weight than pegboards and can be nailed directly to the wall without the spacers required by pegboards. Slat boards cost more but are an attractive alternative for the home, as they can be painted or, for a few dollars more, can be purchased in different colors. Slat boards can also be purchased in different sizes and widths.
Magnetic Strips or Bars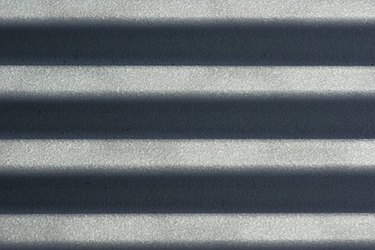 Mount magnetic bars for holding metallic items. These strips can be used to hang anything attracted to a magnet, such as scissors, rulers, and hammers. These magnetic bars often can hold up to 50 pounds and come in strips that range from 18 to 24 inches in length. They mount easily onto the wall in a matter of minutes and are particularly useful in the garage or work shed to keep carpentry tools handy and organized.
GearWall
GearWall is similar to slat board but is made from a heavy-duty composite material. It comes in 8-foot-long, 1-foot-high slats that are screwed into the wall. Each slat is designed to hold up to 50 pounds. The GearWall system is designed particularly for garages but can be used anywhere they can fit. They usually come two panels to a box and cost just under $100.
Velcro Strips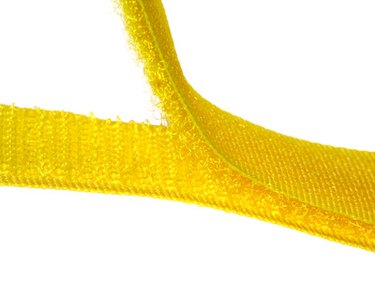 Velcro Strips work well in the home or office as a pegboard alternative because they are light and easy to stick in place. Simply peel and stick the adhesive side to the wall and stick the other piece to the object that will be stored on the Velcro strip.