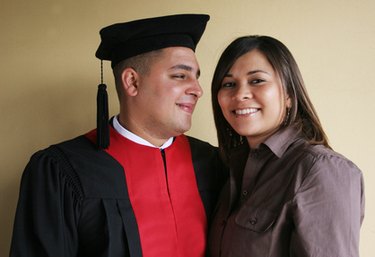 Earning a master's degree is an important accomplishment. The graduate has worked hard, overcame feeling discouraged and mastered difficult tasks to earn the degree. Celebrate the graduate's achievement with a party that reflects his interests.
Retro Party
If the graduate grew up in the 1970's, 80's or 90's, you could hold a retro graduation party. For example, if the graduate loves 1980s pop music from her teenage years, play music from artists such as Billy Idol, Madonna, Prince and Michael Jackson. Also have guests arrive at the party dressed up in 1980's gear such as big earrings, loud jackets and wrist bracelets.
Graduation Breakfast
If the graduation will be held in the afternoon, a graduation breakfast may be a good idea. Ask the graduate what kind of breakfast foods he or she wants for the event and ask relatives and the graduate's friends to help with shopping and meal preparation. Also have them prepare a short, congratulatory speech for the graduate during the breakfast.
Book Giveaway
Since the graduate may have a lot of books from his school days, you could host a book giveaway party in the graduate's backyard. Invite church members, friends, neighbors and relatives over to take books that the graduate no longer wants. Also have some foods such as hamburgers, finger sandwiches, chips and candy for guests. You could also play music.
Wine and Chocolate party
One good way to celebrate the individual's life is to host a wine and chocolate tasting. You could have some relatives and friends bring wines for everyone to try and you could purchase some new brands of boxed chocolates for guests to try. You could serve a light consisting of tuna or pasta salad, chicken wraps or mini vegetable pies with cream sauce.