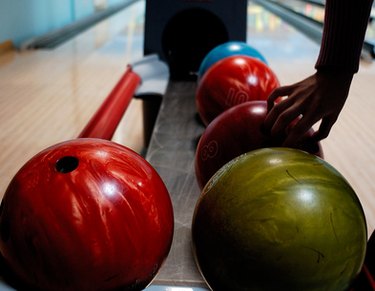 Parents might struggle to come up with places to throw their teen a birthday celebration. Teenagers fall into an awkward age group where they are no longer interested in juvenile birthday parties, but still need some parental supervision. Choose a location that allows teens to socialize and enjoy a fun activity without parents standing over them. Make sure your location has plenty of activities to keep teenagers entertained and enough space so that parents can supervise without being overbearing.
Bowling Alley
Rent out several lanes and even a private room to throw your teenager a bowling birthday party. Bowling is ideal for teenagers because the sport focuses their attention, but they have plenty of time in between turns to socialize. Teenagers don't need constant activity like younger children do, so they'll appreciate the time to gossip and enjoy each other's company. Parents can set up snacks and sodas in a private room at the alley, or let each teen pick out his favorite food at the snack bar.
Dinner Party
Let teens feel like adults by hosting a dinner party at a favorite local restaurant. Rent out a banquet room or patio at the restaurant, and work with the restaurant to create a menu just for the birthday boy or girl. Many restaurants will create a personalized menu for the guest of honor. Let teens socialize, open presents and enjoy traditional birthday cake in this more adult environment. You can even encourage guests to dress up for the event, which will appeal to teenagers—girls, in particular—who are increasingly interested in fashion and their appearance.
Birthday Barbecue
A local park or your own backyard can play host to a teen's birthday barbecue. This relaxed atmosphere allows teenagers to enjoy each other and the outdoors at once. Throw some hamburgers and hot dogs on the grill and offer easy sides like chips, potato salad and baked beans. Provide outdoor activities, like horseshoes or cornhole, but don't pressure teens to participate. The boys might gravitate toward the games, while the girls might be happy to just watch the guys and gossip. At the end of the night, give teens sparklers to use as they sing happy birthday to the guest of honor.
Arcade
Many teens enjoy video games, from the classic games to the more modern, musically-inspired games. If your teen is a video-game aficionado, host the birthday party at a local arcade. Give guests an allotment of quarters or tokens to enjoy arcade games, and offer finger foods for guests to snack on as they play. Birthday in a Box suggests setting up an arcade in your own home, provided you have access to a number of video game consoles. You can even host a video game tournament to see which guest has the best gaming skills.