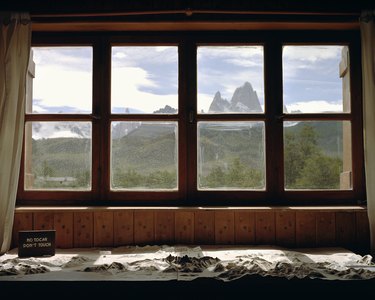 Keeping intruders out of the home and small children in is an important concern to homeowners. Considering the openings to your home, windows are harder to secure than hinged doors. Different styles of windows call for different styles of locks to ensure your windows securely lock into place. Finding the right lock for the right window is simple when the correct function of the window lock is known.
Sliding Window Locks
Install permanent sliding window locks on the window to keep it from sliding, or install sliding window locks that mount onto either side of the track and twist a wing nut in place to mount it securely to the window. The sliding window locks that are not permanent require no tools for assembly and give the owner the choice of leaving windows slightly open but still securely locked into place. Sliding window locks are also available as locking sliding window locks. The owner is required to remove the lock with a key prior to opening the window.
Keyed Sash Locks
Keyed sash locks work efficiently with double-hung windows. They mount to the side of the window or window sash and require a key to open and close. Once in place the user must remove the lock with the key to open the window. They come in a variety of finishes to match any décor.
Hinged Wedge Locks
The hinged wedge lock offers two functions to double-hung windows. When securely in place, the hinged lock prevents the window from fully opening. The window opens only as far as where the lock has been installed. The hinged lock can push inward towards the window to allow the window to completely slide open. When slightly opened but still securely locked, the hinged wedge lock provides the user the ability to circulate air.
Folding Locks
Mush like the hinged wedge lock, the folding lock mounts to the top window of a double-hung window and permits the window to open slightly. Unless the folding lock is folded inward, the window can't open fully. The folding lock provides air circulation without compromising safety.
Window Latch Lock
The window latch lock is the standard lock seen in most windows. The window latch lock attaches to one window and securely connects to another window when closed. This is achieved when the user turns the handle on the latch, locking the two windows into place.