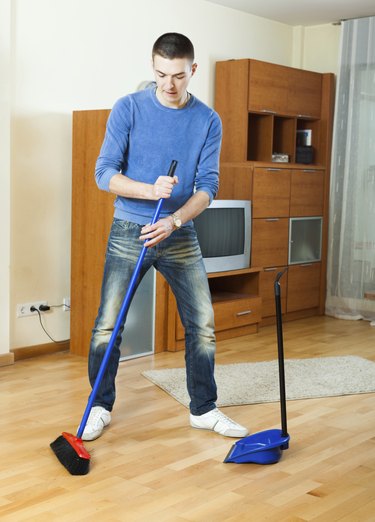 If you intend to do your own housework, housekeeping tools are a must-have whether you live in a large house or a tiny efficiency apartment. When just starting out on your own, a few basic staples help keep your home neat, tidy and dust-free; you can always add specialty items, such as a window squeegee, down the road, if you desire.
Wet-Cleaning Wonders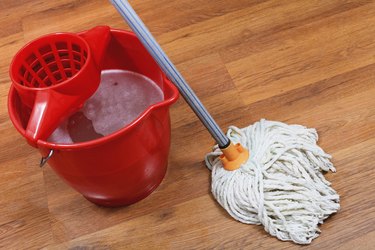 A bucket, mop and sponges go a long way to keep floors and household surfaces clean. An old-fashioned string or yarn-style mop will suffice, but it means squeezing it out by hand, unless the bucket has its own wringer. A sponge mop with a built-in handle to squeeze out excess water allows you to wipe down just about any type of flooring, from vinyl to laminates or tile. Sponges help wipe up spilled messes on the floor, or wipe cabinet fronts after a messy meal preparation. A sponge with a nylon scrub pad on one side removes caked-on debris from cookware, utensils and countertops. Dishcloths handle day-to-day dishwashing chores.
More for the Floor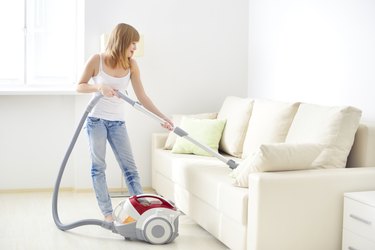 The floors need frequent attention, specially if you wear the same shoes outside and indoors or if pets share the space with you. A broom and dustpan pick up daily dirt, debris and crumbs. A trash can and supply of trash bags provide a place to dump the items collected in the dustpan. If some rooms are carpeted or if you have area rugs, a vacuum cleaner removes particles trapped between carpet or rug fibers, and also cleans upholstered furniture and curtains. Opt for a vacuum cleaner with an upholstery brush attachment and a mobile wand or hose to be able to clean the most surface area.
Busting Dust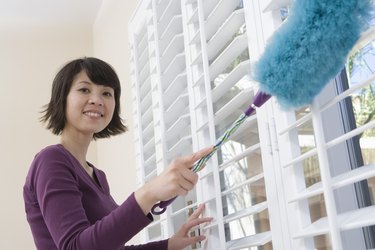 Static dusters, such as a dry floor mop with disposable static dust pads, pick up everything from dust to dog hair. On hand-held wands, these pads clean appliances, hard furniture and ceiling fans. A feather duster offers a quick way to dust delicate items such as lamps and sculptures. Microfiber cloths or soft, lint-free cloths will dust fine furniture without scratching its finish.
Bathroom Basics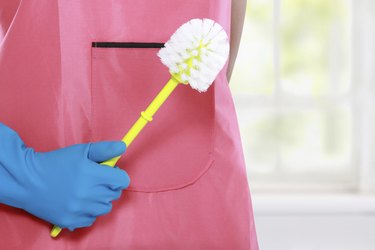 The bathroom carries with it a few cleaning needs of its own. A toilet brush, with matching holder, keeps that toilet as fresh as possible. A scrub brush helps remove soap scum from the bottom of the tub or shower, and cleans grout on tiled walls and floors. A smaller brush, such as an inexpensive toothbrush, reaches into corners and around the base of sink fixtures to remove buildup.