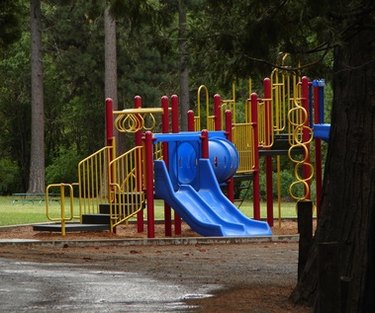 A neighborhood park offers a possible location for a kids' birthday party during the warmer months. The open space allows you to plan a variety of games and activities without space restrictions. The playground equipment and other features of the park provide built-in entertainment for the kids. Reserve a shelter house or picnic tables at the park so you have a guaranteed spot to set up the party gear.
Decorations
A party at a park does not require as many decorations as some other party venues. If you rent a shelter house you'll have more flexibility with the decorations. A plastic banner creates a simple party decoration. Attach bunches of balloons to the picnic tables or shelter house to dress up the area. Streamers also work well on the posts of the shelter house or along the edges of the picnic tables. Disposable tablecloths in bright colors dress up table tops. Purchase tablecloth clips to keep them from blowing away.
Activities
The playground equipment at the park will keep many of the kids busy during the party. Organized games add more entertainment. Large group games such as tag, relay races, Follow the Leader and Duck, Duck, Goose work well. Soccer, baseball and volleyball are other game options if the park has facilities available. A park with a pond lends itself to feeding the ducks or fishing if it is allowed. A park with a large open field free of power lines works well for kite flying. Give each child an inexpensive kite as a favor that they can use at the party.
Food
The menu for a child's party at the park depends on the facilities available. Many parks offer grills which allows you to barbecue a variety of meats including hot dogs, hamburger or chicken. These food items are easy to eat in a park setting. Alternative options that don't require cooking at the park include cold meat sandwiches, chicken salad or cold fried chicken. Side dishes for either option include pasta salads, potato salad, chips, fruit, vegetables and other snacks. Bring a cooler with plenty of ice for any cold items so they don't spoil.
Weather Considerations
Late spring, summer and early fall are the most logical choices for a park birthday party because the weather is usually more pleasant. There is always the chance that rain, wind, unusually cold temperatures or other weather conditions will interfere with the party no matter what the season. Weather problems typically pop up last-minute, so you won't have a lot of time to prepare. Have a back-up location in mind to account for potential bad weather. This prevents stress if you must switch the location. Include the back-up location on the invitation or call each guest if a change is made.