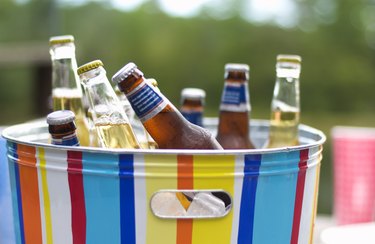 Your boyfriend's 21st birthday is a landmark occasion for a few different reasons. Many consider 21 a passage into adulthood, even though 18 makes you eligible to vote and enlist in the military. Turning 21 also makes your guy old enough to legally drink. Mark this milestone birthday with a memorable gift.
Romantic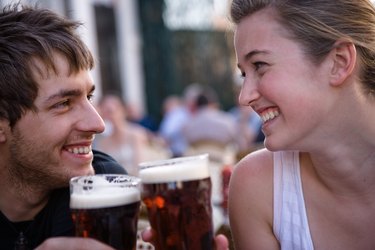 A bouquet of 21 red roses could embarrass a guy, but if he appreciates such sentiments, go for it. Or use the number 21 for several other romantic gifts. Create a collage that outlines 21 reasons why you love him. A personalized poem is another idea, poetically pen the 21 reasons you love him or 21 fine memories you shared. Frame 21 photos of your favorite places, outings or mementos–like concert or movie ticket stubs – as another romantic gift. Create a set of 21 colorful index cards, each one serving as a personal date coupon he can share with you. Offer him date options that range from champagne for two under the stars to a night out at the biggest dive bar in town.
Functional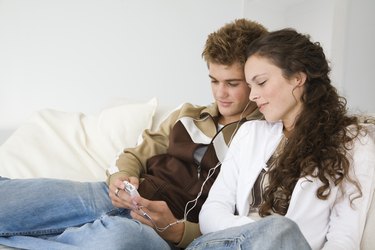 Functional 21st birthday gifts work for a guy entering official adulthood – and often the real-world job market. Keep functional gifts personal with an engraved wrist watch or clock. If you are in a longer term relationship and have the cash, give electronic items and gadgets for his birthday. Ideas include a digital camera, electronic organizers or the latest handheld devices like Kindle or an iPod. Personalize the device itself, if possible, or add a custom touch to the device's case. If your guy is a writer or artist, try a personalized 21st birthday writing journal or an array of 21 different paint colors, markers or other art supplies.
Fun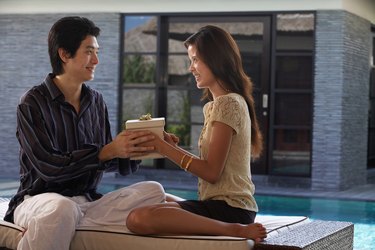 Give fun 21st birthday presents to a boyfriend who likes to party and is thrilled he can now legally drink. Create your own gift sets of 21 different imported beers or 21 funky shot glasses. Keep it personal with an engraved 21st birthday beer stein or set of mugs. Cosmopolitan.com showcases a personalized beer keg featuring chrome-plated steel you have engraved. If your boyfriend enjoys a guys' night out of drinking beer and playing poker, try a personalized poker set, also featured in Cosmo. For a different kind of fun, get a personal image or sassy phrase custom printed onto boxer shorts and wrap them up for your boyfriend's 21st birthday.