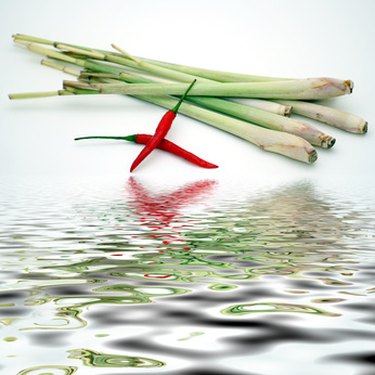 Lemon grass is a type of grass that has a distinct lemon aroma and flavor and is widely used in Indian and Asian cooking, as a tea in most countries as well as in aromatherapy and herbal medicines. There are more than 50 types of lemon grass, not all of which are edible. Lemon grass grows well in the tropics and can be found throughout the world in tropical locations, as well as hot and dry climates such as the Mediterranean and Australia.
Cymbopogon citratus
Cymbopogon citratus is the most common type of lemon grass used for culinary purposes. Cymbopogon citratus is also called West Indian lemon grass, and, according to Gernot Katzer's Spice Page, it is generally thought to be of Malaysian origin. Cymbopogon citratus is used as an herbal infusion to bring down fevers, to aid digestion and as an anti-fungal, according to Crescent Bloom. Lemon grass oil is extracted from lemon grass and the inedible type of lemon grass commonly referred to as citronella grass. While cintonella grass oil is used topically, lemon grass oil can be used internally as a carminative and to help digestion. Lemon grass oil should not be taken internally in large amounts—two or three drops at most, and always under the direction of a qualified herbal practitioner.
Cymbopogon citriodora
Cymbopogon citriodora is also called West Indian lemon grass and is used for similar purposes as the citratus variety. The bulbs of the Cymbopogon citriodora are usually crushed and used to flavor anything from curries to spice pastes, baked fish or soups. The leaves are often dried and used for preparing herbal tea.
Cymbopogon flexuosus
Cymbopogon flexuosus is used interchangeably with citratus but is called East Indian Lemon Grass. Although East and West growing regions may have applied hundreds of years ago, according to Gernot Katzer's Spice Page, the two species are found in abundance throughout the Asian tropics.
Cymbopogon ambiguus
Cymbopogon ambiguus is a native Australian lemon grass, grown throughout most of Australia except the cold regions around the Snowy Mountains. Cymbopogon ambiguus is commonly used as a medicinal herb and is sometimes called scent grass, according to Gardening Australia. Like other types of edible lemon grass, the bulbs of Cymbopogon ambiguus are usually used in food preparation, while the leaves are commonly used to prepare herbal teas and tonics.