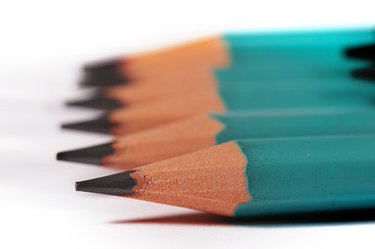 Before beginning a drawing class or deciding to work on drawing independently, you'll need certain basic materials and tools to work with. Of course you'll need paper and drawing utensils, but certain other tools can help you make better drawings. Purchase items individually rather than in bulk until you decide which materials and tools suit you best.
Pencils and Charcoal
The first tools you'll need to begin drawing are pencils and charcoal. Drawing pencils range from very soft (9B) to very hard (9H.) Begin with medium density pencils, about 2H or 2B. Also look for a variety of vine and willow charcoal pieces to work with, ranging from skinny to extra thick. Most art supply stores sell variety packs of pencils and charcoal.
Paper
Drawing paper comes in a variety of textures, from smooth and slick to heavily textured. For beginning drawing, look for a medium-textured paper. You can purchase paper in individual sheets, large rolls or pads of various dimensions.
Pencil Sharpener
You'll need a handheld pencil sharpener to keep you pencils in good condition. Metal sharpeners work better than plastic ones. You can also use a small knife to sharpen your pencils.
Erasers
Purchase several soft, kneadable erasers. This kind of eraser will not damage sensitive drawing paper but will easily lift graphite and charcoal from the paper's surface.
Blending Tools
You can choose from several different kinds of blending tools for manipulating texture and value. A "stump" is a piece of rolled paper with a tapered tip designed for blending. You can also use a soft cloth, towel or chamois, which you can find at art supply stores or hardware stores. Small flat brushes also work well for blending.
Matte Fixative
If you'll be working with charcoal, you'll need a matte fixative to spray on finished drawings to prevent them from smudging. Be sure to spray matte fixative outdoors or in a well-ventilated area.
Drawing Board
If you prefer not to work on a flat table, purchase a drawing board to use as a surface for your work. You'll also need painter's tape or metal clamps to attach your paper to the board while you work.