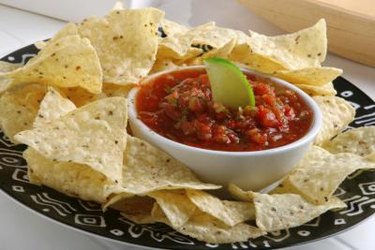 Teens like low-maintenance finger foods they can enjoy while dancing, playing games and socializing during parties. Most finger foods teens enjoy can be prepared an hour or two before the party, so they are served hot and ready when guests arrive. From saucy foods to items teens can customize with the toppings of their choice, give your teens some variety
Mini-burgers
Serve teens bite-sized burgers as a party finger food. Set up a fixings bar that includes such condiments as mustard, ketchup, mayonnaise and barbecue sauce, as well common burger toppings including assorted cheeses, onions and pickles. For mini-burgers, offer teens bacon bits to sprinkle on for additional flavor.
Wings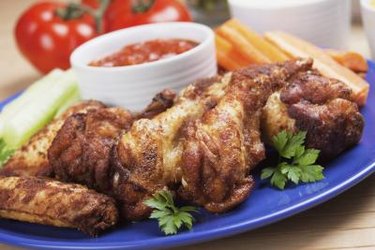 Spicy, mild or sauce-less, wings are a snack teens enjoy. Served with blue cheese and ranch dressing for dipping, wings can be messy, so provide teens with ample paper towels. Hot wings can be served with celery sticks to help decrease the heat. Consider using boneless chicken to create this finger food.
Pizza Bagels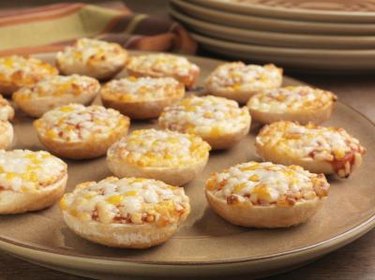 Prepared using miniature bagels, spaghetti sauce and cheese, mini-pizzas are a familiar finger food you can serve at your next teen party. Serve varieties with pepperoni, sausage and vegetables.
Potato Skins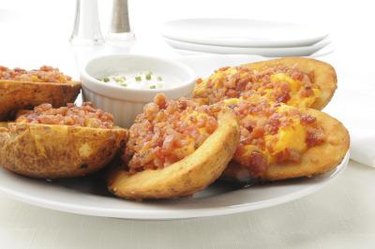 Potato skins are a suitable alternative to french fries and an ideal finger food for a teen party. Toppings include sour cream, bacon, cheese and chives. Serve potato skins plain and let teen guests create their own variations by adding the toppings of their choice.
Vegetable and Fruit Platters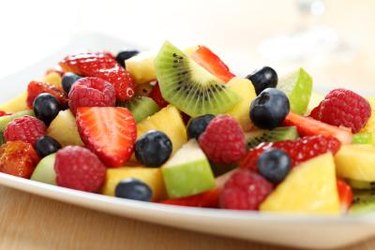 Vegetable and fruit platters are low-maintenance finger foods teens can enjoy upon arrival to the party. Fresh carrot sticks, celery, broccoli and cauliflower pieces served with cheese or cream cheese dip provide teens with a healthy snack. Arrange fresh fruits such as pineapples, watermelon, strawberries and grapes on a platter with brightly colored skewers teens can use to create their own fruit kabobs.
Tacos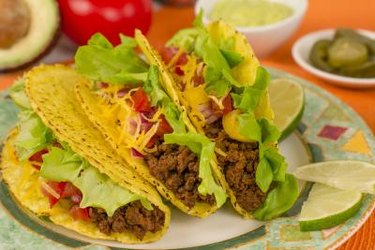 Messy, saucy and filled with toppings, tacos provide teens an opportunity to customize this finger food by adding their favorite toppings. Offer teens salsa, guacamole, sour cream, cheese, tomatoes, lettuce, and hard and soft taco shells.
Cupcakes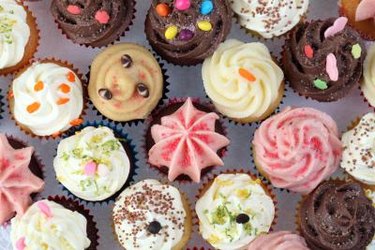 For dessert, serve a selection of chocolate and vanilla cupcakes in a traditional size or a miniature variation. Cupcakes save the trouble of cutting a cake and distributing slices with plates, napkins and forks. Supply teens with colored sugars, sprinkles and icing to decorate their own cupcakes.